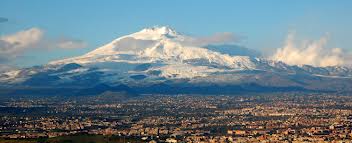 Mount Etna has always been known as Europe's most active volcano. Recently, Travel + Leisure magazine named it one of the "
Newest Wonders of the World
". This week, however, the volcano made world news headlines on its own accord.
On December 2nd, Mount Etna spewed hot lava and volcanic ash in a fury. This marks the NINETEENTH eruption of 2013! It has been a busy year...
This eruption did not result in evacuations, but did offer a thrilling spectacle for surrounding towns. Or perhaps, the residents nearby are used to it by the nineteenth time??
Mount Etna's constant eruptions are welcomed by scientists studying this natural wonder. Resulting volcanic soil supports vineyards in the region, so I am sure wine lovers do not mind the regular occurences so much either.
Check out one of our cruises that visits Mount Etna
here
!