We spent a couple days relaxing in La Paz, exploring the town, and getting our bearings.  Then we set out to find a beach we'd heard about from our friends - Balandra Beach.  It's about a 30-40 minute drive on the point north of La Paz.  We had also saw that there was a Tecolote Beach further north and on the point between the mainland and Espiritu Santo.  This was the jumping off point for some kayaking and day tours to Espiritu.  We arrived to see a large sand parking lot with a few run down bars and restaurants.  We decided to walk down the beach to check it out.  The surf was very strong and not easy enough for us to wade around at that time of day.  On the way back to our car we came dangerously close to a pack of wild dogs that can taken up residence behind one of the dunes.  Not quite what we had expected from of Mexico beach visions so we hopped in the car and drove back to Balandra.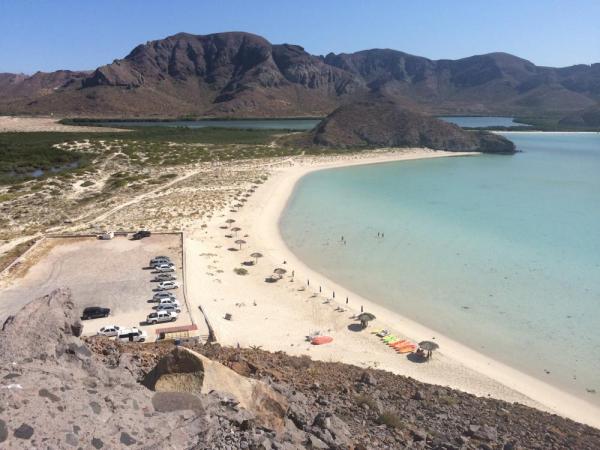 This is what we had been waiting for!  Crystal clear waters and beautiful sandy beaches.  We packed all of our valuables in our daypacks and set on the beach to explore.  The tide was very low so we walk all the way around the point and onto the next beach and next beach.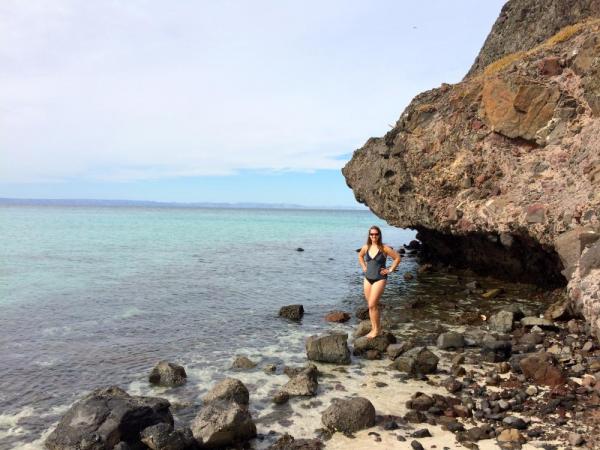 It was a weekday so there weren't many people out and about.  We diverted up the rocks to the top of the hill (It took about 30 minutes to get all the way on top) and looked out over the Sea of Cortes.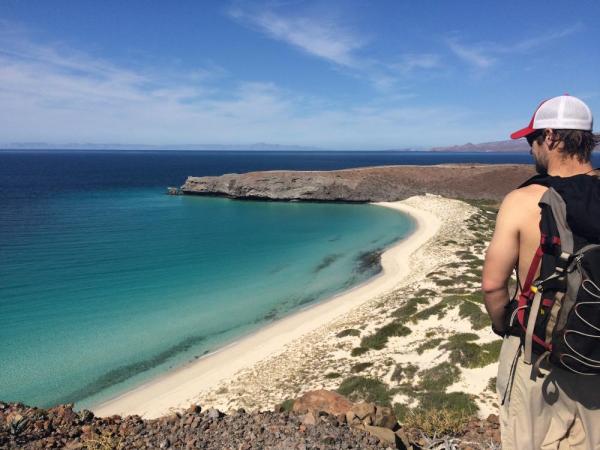 It was quite windy on top of the hill and I had to remind myself to continue applying sunscreen even if it was a bit chilly.  The chill didn't last long as it reached midday and the rocks smoldered below us.  We returned to these beaches on the point a couple times during our stay in La Paz and I liked how we could always take a different trail each time.  The trails spidered over the mountains and were marked with rock towers to keep you on track.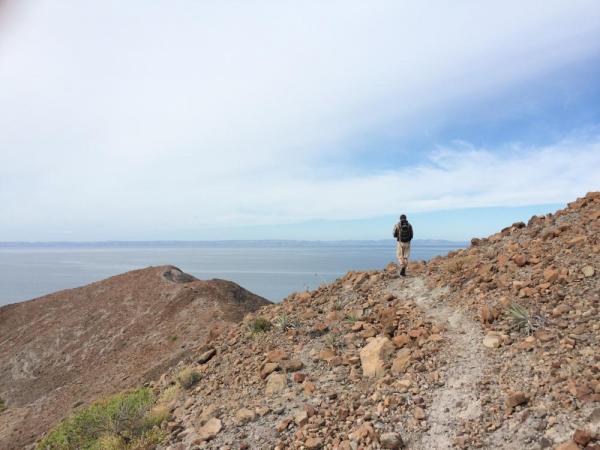 We hiked down to the beach to swim and eat a snack.  You could see out forever in the water and we spotted several different fish.  I took a moment to swim around in a small cove and look at the fish below.  That was enough excitement for the moment and I returned to the beach to grab a Pacifico beer and relax. It was after noon already so I figured a beer was in order.  I spent the next hour watching the surf for feeding fish and also following the crabs as they scuffled to and from their holes in the sand.  They are very sensitive to movement, so you typically only see them up close when you sit quietly and they emerge from their holes.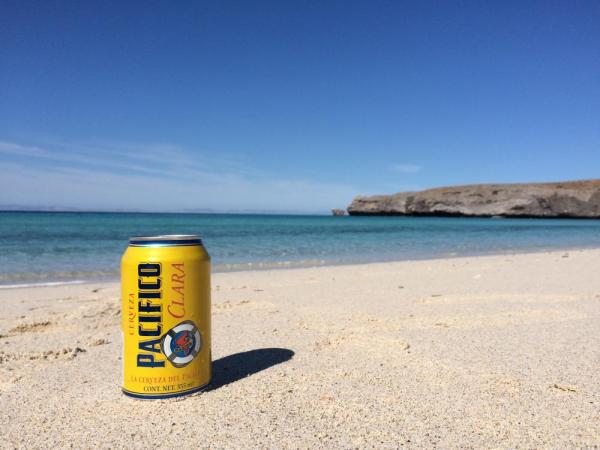 Even on vacation Matt couldn't sit still for long.  He decided to go look for artifacts (he's an archeologist) and walked up the hill to a cave set back in the rocks. It was clear that looters had taken much from the site, but there were still remnants of shells and rocks used by prehistoric peoples.  We sat in the cave for a bit, cooling off from the hot sun.  I was thankful that we'd brought a couple liters in our packs, but I would have brought even a couple more for the entire day.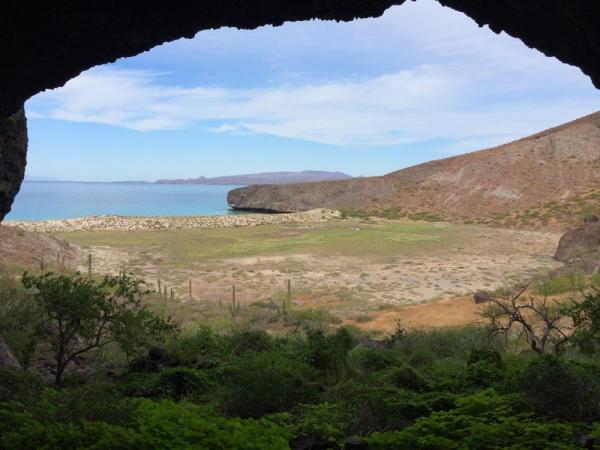 So our days on the beaches were spent exploring, swimming, and relaxing.  It was nice to be on our own time schedule.  We came back early afternoon some days and others we stayed out the entire day exploring.  The beautiful landscape and peaceful sound of the tide was enough to lull us into vacation and relaxation mode.