My best friend from college lived in Mexico for a few years and every time she would visit, I'd request her fish tacos and empanadas.  Those two were on my mind while we booked our flights the months before.  So I found a way to have fish tacos at least once every day.  Living in landlocked Montana we don't have easy access to fresh seafood.  La Paz was my sea-foodie dream! 
One evening we found a great treat along the waterfront.  Stella restaurant was normally a place out of our budget but they had a great happy hour.  We ordered the calamari and balsamic salad appetizer.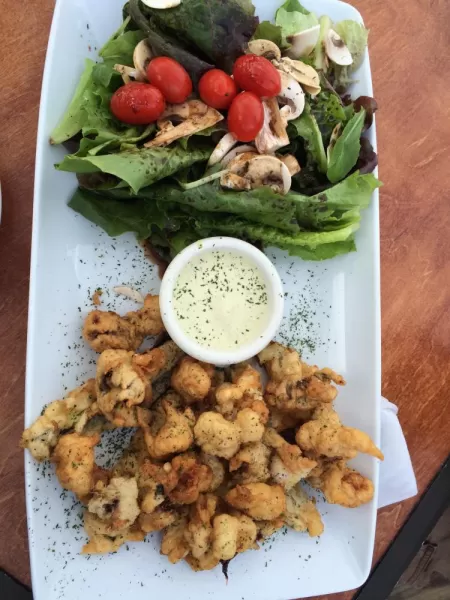 Their pizzas were incredible as well for the happy hour menu so we ordered a pepperoni and hawaiian speciality.  It was so much food but we were happy to take a to-go box back to the hotel with us.  There was a communal kitchen to store food for later and it worked out wonderfully to have that option during our stay in La Paz.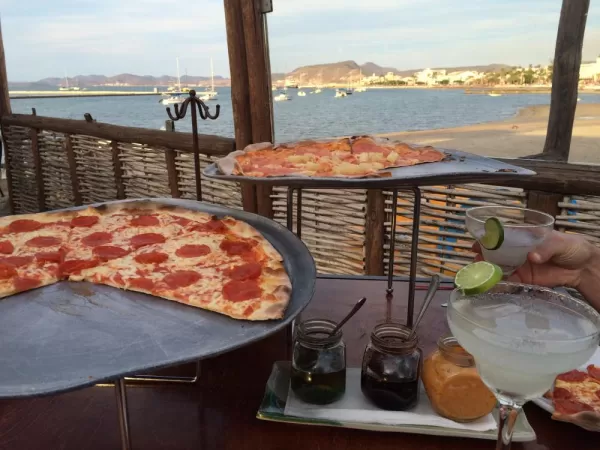 Our next food adventure was a couple days later on our return from Balandra beach.  We had heard of McFisher's Restaurant from a friend before traveling to Mexico and had seen several great reviews on Yelp.  It did not disappoint us.  We had a bit of trouble finding the right crossroads in the beginning but we ended up in the right spot.  The service was great and the fish tacos were authentic and tasty.  I appreciated the open-air setting of the restaurant as it made you feel like you were dining on the beach even if we were a few blocks shy of it.  The tortillas were freshly made and there was an abundance of salsas to pick from.  Altogether we didn't break the bank with our dinner and felt more than full walking out the door.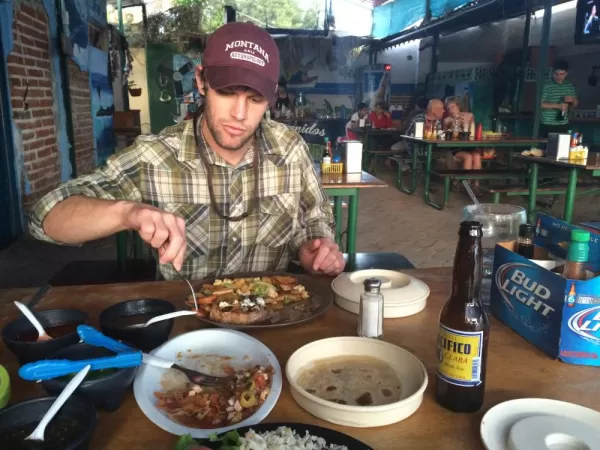 From former travels in Latin America I was not surprised to find that every main cuisine around the world was represented in La Paz - Italian, Chinese, Indian, Caribbean, French, American, etc.  And we happened to stumble upon a gem on our last evening in La Paz.  We had a Greek dinner at Astropholi just a few blocks off the malecon.  I was hoping to get one last meal in with seafood and the chef did not disappoint us.  He came out to our table and chatted with us a bit before suggesting a wonderful shrimp pasta dish that was not on the menu but he would make special for us. It was delectable and the personal service was a nice touch!