Every time we go on vacation it takes a couple days to unwind and relax completely.  We left Montana with a flurry of emails, check-ins with family, and "To Do" lists laid out on the kitchen table.  I think I have thought of everything but undoubtedly something will arise outside of my contingency plans.  "Which is OK!" I have to tell myself.  We got to the airport at o'dark thirty and hopped on our plane, exchanged plans in Salt Lake and then arrived in Cabo that afternoon around 3pm.  We flew into Los Cabos airport (SJD) outside of San Jose del Cabo not to be confused with Cabo San Lucas Airport (CSL) farther south.  The atmosphere was very relaxed in the airport with a terminal full of gringos heading out on vacation.  Customs was not a problem and we were quickly out the door and in the middle of a throng of taxi drivers.  We walked directly to the National Car Rental shuttle which took us a on a 3 minute drive outside to the National office.  We rented the basic compact car which was a nominal fee per day.  The part that shocked me was the mandatory insurance by the Mexican government.  Our rental fees for the week were under $50 but the cost of the insurance was listed at a couple hundred dollars. They also make you sign your life away to accept the basic insurance instead of the "standard" National insurance they recommend at double or triple the cost.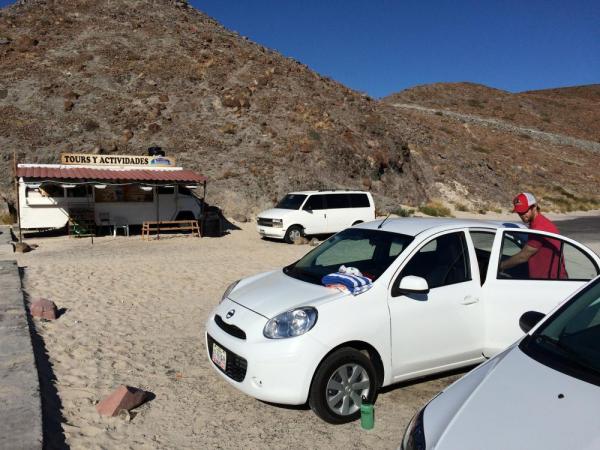 So after a short time at the rental car office, we hit the road in our Hyundia "mini mi amor" (picture above) and navigated our way up the coast to La Paz, the capital of Baja.  We took the shorter but slightly slower route in order to check out the coast and avoid tolls along the other faster highway.  It took us a little under three hours to get to our hotel and a few wrong turns but we made it!  I hadn't factored in driving into the city at night (we arrived around 7pm) and also that my navigator couldn't keep his eyes open after after an hour in the car (he hadn't slept the night before).  We arrived to our hotel Posada LunaSol and breathed a sigh of relief that we were there.  I gave the desk attendant my name and reservation information but after about ten minutes of searching their database, he informed me that our reservation was not in the system.  I showed him my email confirmation, he contacted his manager, and after some back and forth it was sorted out quickly.  They had a new reservation system and our reservation had somehow not transferred over properly.  Whew!  We stayed that night in the family room for six and the following day they moved us to our balcony suite (which I highly recommend - room #12).  I didn't think it would make that much of a difference having a balcony, but as you can see below we spent quite a bit of time in the hammock and rocking chairs outside for the next week.
It became a breakfast tradition to have coffee and cereal on the balcony.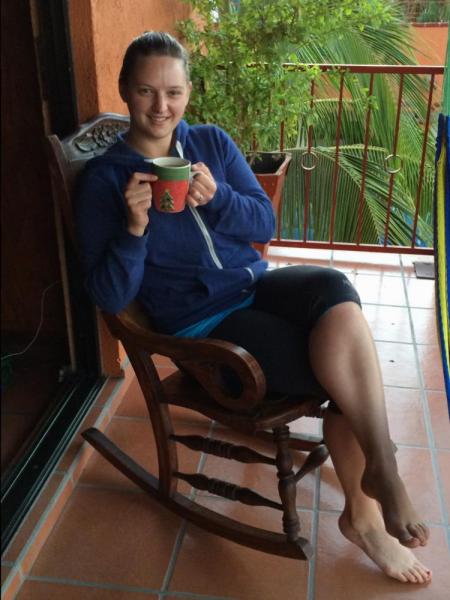 After a long "hard" day at the beach, we'd return to chill out with margaritas on the balcony.  The hotel had wifi so we were able to connect with family and friends at the end of the day too.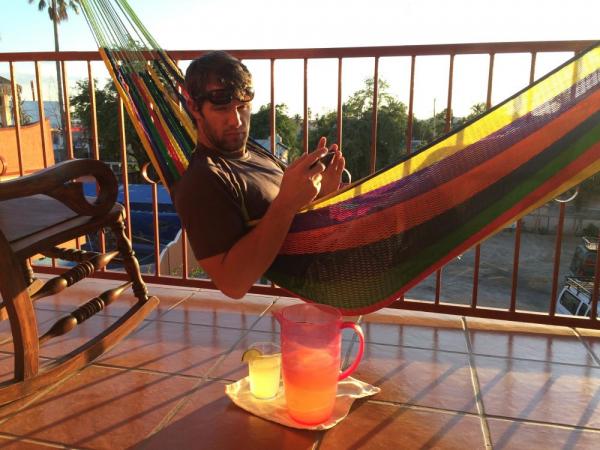 Matt soaks in the last of the sunset on the balcony.  It took a few days but we finally slowed our pace to the rhythms of Mexico.  We're on vacation!