Todos Santos is located about an hour drive south of La Paz on the freeway.  Navigating the highways on the Baja was relatively easy. The one we took down the coast was the main freeway and the other we had taken up the coast from Cabo was a smaller two-lane highway.  The highway was maintained well and it was a smooth drive down to Todos Santos.  My best friend from college had lived in Todos Santos for many years after graduation doing mission work.  I was kicking myself for not visiting her more!  It is a relatively inexpensive flight and easy drive up the coast to get there.  After we explored around the town for a bit, I told Matt that we should stay here in the future if we come back to the Baja.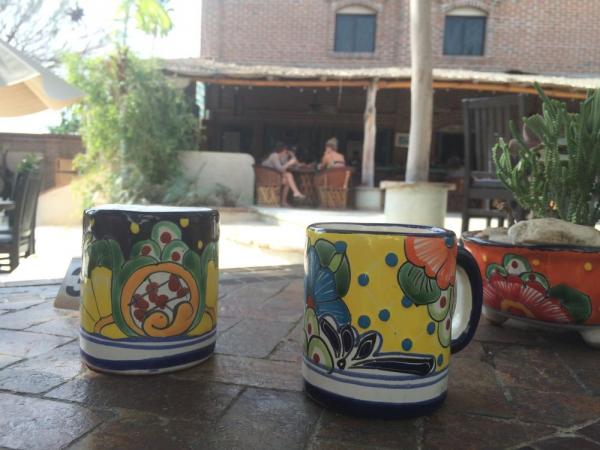 The town had a very laid back surfing vibe to it.  There were a lot of expats who had settled in around the town and build large homes to retire in.  We chose to have breakfast at La Esquina which was of course located on "the corner" across a small valley in the town.  We parked in the main center of town where the church was located and walked down and over to this other part of town.  In retrospect, we probably should have just driven and parked by La Esquina but the map looked like it was going to be just a short walk.  
The restaurant was filled with expats and they had a lengthy list of espresso and tea drinks to order from.  The breakfast menu made my mouth water as well. We decided eventually on a couple lattes and omelettes. The bathrooms were very clean and the entire place was well decorated and included wifi!  We hopped online to checkin with friends and family briefly and then set out to explore more.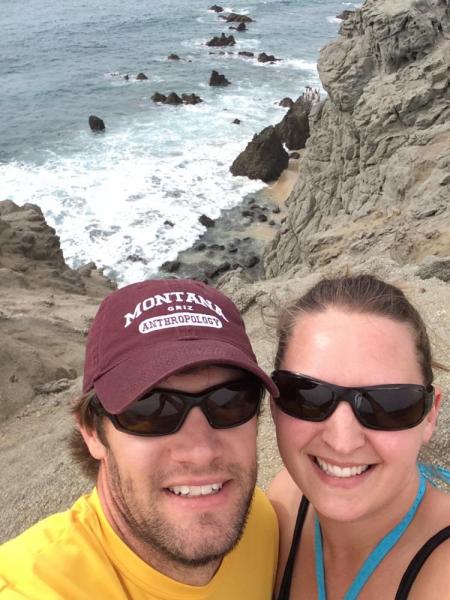 We cruised down the freeway south a little farther to an exit marked "Cerritos Beach Club & Surf".  We were trying to find a good access to the beach which was surprisingly challenging.  Most of it was private or the roads into the beach were on private land so you couldn't get through.  At Cerritos, we found a parking lot but you had to pay to access the beach which seemed ridiculous to me.  We drove up the hill instead to have lunch at huge manor on the top called Hacienda Cerritos.  After a look at their prices we decided to head back to Todos Santos but not before hightailing it up the cliffs to grab a couple photos.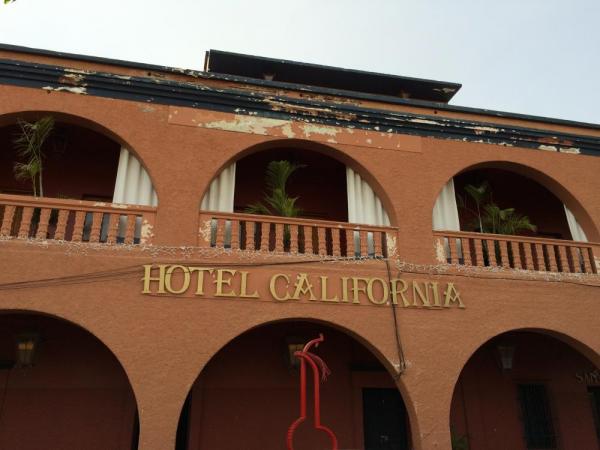 Back in town we walked around looking for some handicrafts and gifts to take back for family and friends.  We were at the end of our trip and it had flown by without us realizing it.  We stopped in at the Hotel California to have a margarita or two and hum the Eagles song as we sat in the back courtyard.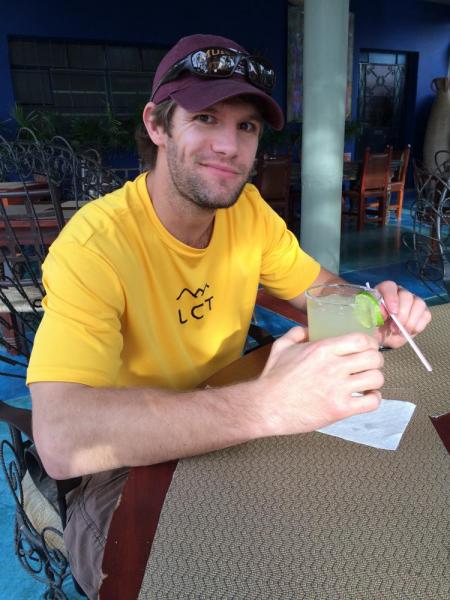 Livin' it up at the Hotel California!