As I mentioned before one of the main reasons we chose Posada LunaSol was for the convenience of going on day tours.  One morning we met our group in front of the hotel and our guides outfitted us with snorkels, fins, and life jackets from their gear room.  Then we walked a short way down to the pier and hopped in a boat.  Half the group spoke Spanish and the other half English so he always translated his instructions and descriptions in both.  Exhausting!  I have so much respect for the guides and all that they do logistically while making sure everyone is having a good time.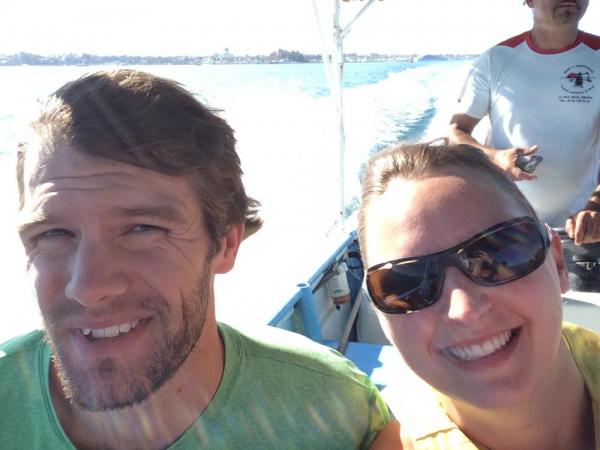 We motored out just a brief way from the Malecon and La Paz when our driver cut the motor to search for whale sharks in the sound.  After only a few minutes we were in luck!  He spotted some a hundred meters away and we were off after them.  I'm kicking myself now for not bringing an underwater camera but in all truthfulness we most likely would not have gotten a good photo in all the chaos.  The sharks are very shy (I would be too).  So after a few moments of us in the water snorkeling around them, they would dive off to find another feeding place.  The astounding fact that our guide shared with us was that these were juvenile whale sharks. The whale sharks can be anywhere from 15-30 feet long on average.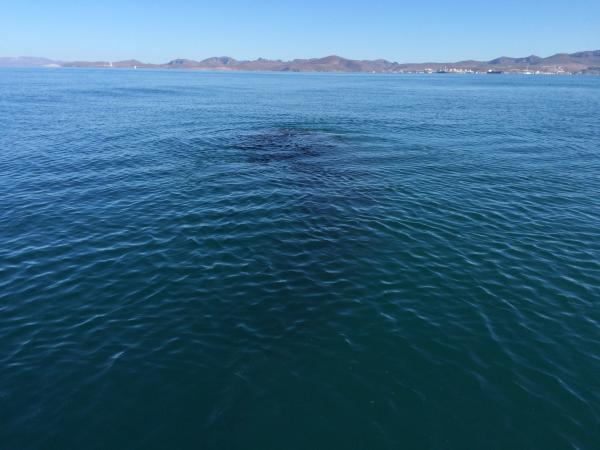 So we went through the process a few times of motoring up to a group, hopping in the water near the whale sharks and catching a quick glance at them.  The last time we hoped into the water I felt Matt grab my arm abruptly.  I turned around to see a giant mouth heading my direction.  I swam as fast as I could out of the way and watched the beast glide by me serenely.  Whale sharks are not aggressive but my brain would not process that quick enough as I saw that it was about to eat me.  Our entire time with the whale sharks was about a half and hour but the memory will last a lifetime.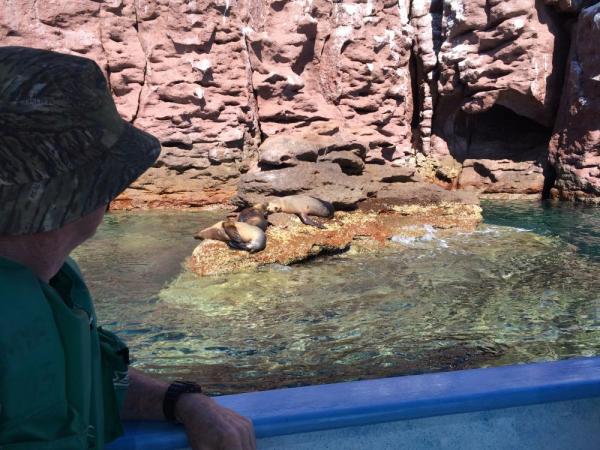 We continued on to Espiritu Santo Island which was about another hour or so from La Paz.  It held a colony of sea lions nearby on Los Islotes which we stopped at first.  The boats drop anchor outside this little island and you spend an hour or so swimming with the sea lions.  Our guide took our group through a tunnel on the side of the island that held an abundance of marine life below.  Then after instructions on how to steer clear of the males, we had time to explore the rocks on our own.  Until recently in the last few years, I've had a significant fear of fish.  So snorkeling is always a bit challenging for me but worth the effort!  I was swimming along with Matt and watching a few young sea lion pups play.  One of them came up behind me and put its nose on the back of my neck and in my ear.  I was so shocked I couldn't move.  It just sat there for a few moments "cuddling" into my neck.  It was oddest sensation with its whiskers tickling my neck.  Then all of a sudden it flipped around and swam off in a hurry.  
I was laughing to Matt when I saw his eyes go wide and he looked behind me.  When I turned around I was face-to-face with one of the largest males in the colony.  He bared his teeth at me and I was sure he was going to bite me.  I grabbed Matt and pulled him in front of me as a shield (a very heroic move on my part which I apologized for later).  It was apparently just a warning from the male to not get too comfortable with his pups because he flipped around and disappeared.  I decided to do the same and not press my luck!
Back at the boat, we climbed in and waited for the rest of the group.  We motored a short distance away to a beach on Espiritu Santo Island where we had a picturesque setting for our lunch.  (One note about the island - there wasn't a bathroom facility or even a corner to put one in.  The entire beach is exposed and we didn't have permits to walk around the island.  In an emergency, the crew is available to set up a camp toilet but there wasn't a tent or anything to cover yourself from other boats docking on the beach.)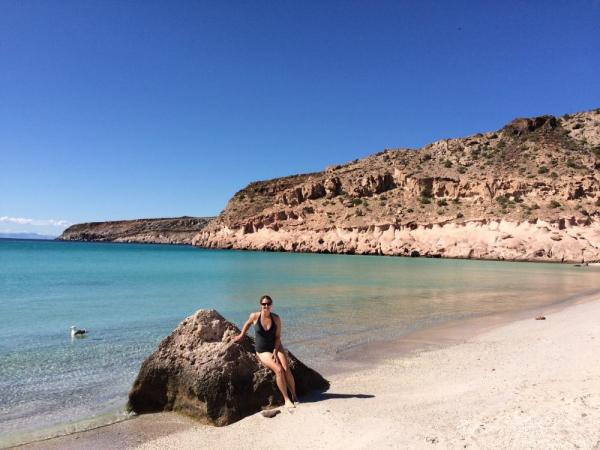 We all had a chance to snorkel around the bay and relax on the beach that afternoon before heading back to La Paz.  It took us roughly an hour or so to get back to La Paz. Halfway there our guide spotted humpback whales breaching along the coast.  He cut the motor and we spent time drifting and watching them in peaceful silence.  That was the cherry on the top of a wonderful wildlife day - whale sharks, frigate birds, sea lions, tons of marine life, and humpback whales!