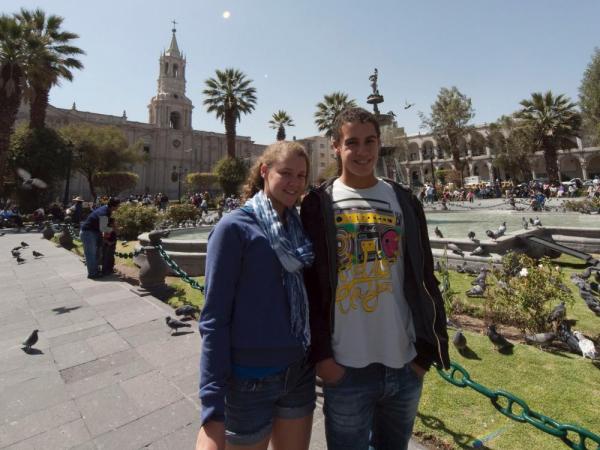 To experience Lake Titicaca, one first needs to know about the Inca legend that states that the first Inca emperor arose out of the Lake and went to Cusco to establish the Inca capital which in about 100 years grew to be one of the largest empires the world has ever known. However, to really experience Lake Titicaca, one must be hustled out of bed at 530AM, scarf down breakfast and board a three-wheeled bicycle taxi for an exhilarating ride to the harbor! The cold, crisp air quickly wakes you up and you know you are in for something special.
Most of the boats which transport tourists to and from the floating and dry islands of Lake Titicaca are "home-made". In other words, they consist of a wooden hull and perhaps a salvaged bus engine. If you are in a hurry, this is not your preferred mode of transportation. The boats chug alone at a brisk 5 miles per hour. Perhaps this is why my pictures came out so clear. Before leaving, a cheerful musician played guitar and flutes.
The floating islands that the tourists see are more or less in the business of tourism. The residents expect and rely on the daily visit of tourists to sustain themselves. They teach you a little about the construction of and life on the floating islands of reeds and then offer to sell you crafts. The women wear very colorful dresses and sing a greeting to all the boats that arrive. Don't get me wrong though—this is a very unique experience. How often to you get a chance to experience a people whose culture is entirely sculpted by survival on a body of water that comprises the largest fresh water lake at such a high altitude? It is believed that these people adopted life on floating islands hundreds of years ago in order to escape skirmishes amongst the land dwelling tribes in the surrounding area.
The indigenous inhabitants of both the floating and dry islands are warm and gracious. The women have a grace about them which is likely the culmination of centuries of surviving in such a harsh, unforgiving environment. While the women seem for the most part to be quite serious, the men always seem to be smiling. We met a young boy who looked to be about 2-3 years old. He immediately approached us and grabbed my daughter's hand to show her around. Mother seemed unconcerned but at the same time, knew where he was at all times. Apparently, teaching the toddlers how to swim is a priority as they can and do fall in the water.
We took a short ride in a boat constructed out of reeds and then left for the dry island of Taquile. Located several miles out in the Lake, Taquile is a relatively fertile, prosperous island whose inhabitants are master knitters. After leaving the boat, we hiked up a long pathway to the high point of the island and were promptly reminded of the fact that we were over 12000 feet above sea level. I consider myself relatively fit, but when a 60 year old man walked past me carrying two full propane tanks on his back, I decided I better work out a little bit more!
Shortly thereafter, we reached a restaurant with a panoramic view of the lake and enjoyed fresh trout for lunch. During our lunch we learned more about the local culture, in particular about their rituals of courtship and marriage. Interestingly, it is preferred and expected that a couple live together for two years before getting married in order to see if they are compatible. Apparently, it is unheard of for anyone to get divorced.
After a long day, we boarded our boat and chugged back to Puno. After a short rest at the hotel, we met Carlos for our last dinner together. What a great guide! I can't tell you how grateful we are to have spent time with such a knowledgeable and genuinely nice person. Although, I know tour guiding is his profession, we will treasure the memories of the great experiences we had together. Thanks, Adventure Life!