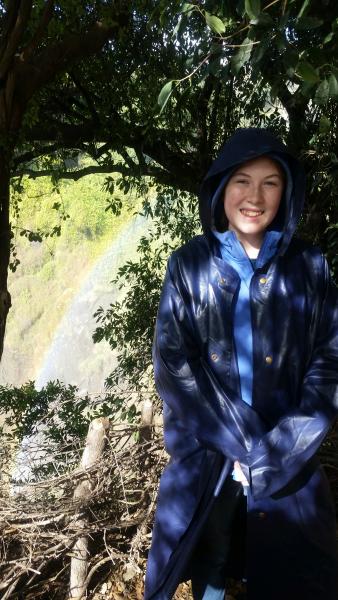 After a lackluster day yesterday, today was arguably our best day yet! We started with a walking tour of the falls. During this high water time, they gave us ponchos which were a necessity. We walked a trail with 16 lookout points along the rim. From lookout 5 onwards, we had a bit of mist. By #10, it was full out raining in a steady stream of water that condensed off the falls and poured back down on us. The walk was beautiful, but soon after it got too rainy to see a thing so we cut away from the path and headed to the Rainforest Cafe to grab a coffee and wait for our group. The cafe was aptly named as a cheeky monkey tried to steal Hailey's snack off the table in front of us when we weren't looking!
In the parking lot, our driver met us to take us to the helicopter tour.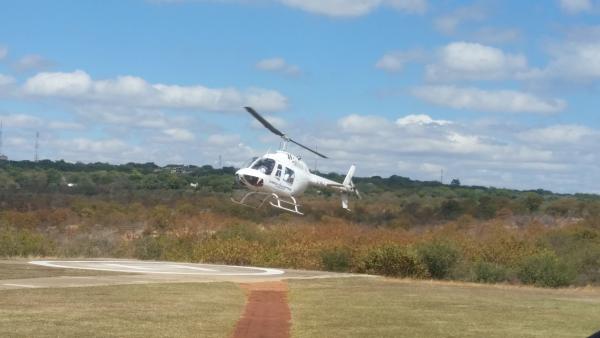 This is a must do, especially in high water, as we really got a sense of how the falls fit into the greater landscape and, of course, had stunning views. It's an unusual river as the Zambezi pours straight over the side of Victoria falls and then makes a full 90 degree turn along the fault line. From here, the river traces thru a zigzagging canyon where intrepid rafters experience the narrow, forceful currents creating class V rapids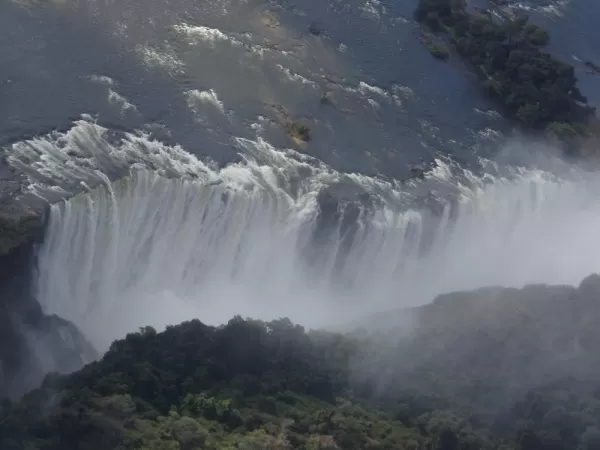 . 
After the helicopter ride, we asked our driver if he could drop us back in town. We went to Elephant Walk, a cute courtyard of shops and restaurants, where we had a fantastic Thai lunch as a break from all the heavy African BBQ we had been eating. From here we walked around the corner to an outdoor artisan market that looks incredibly sketchy with barbed wire fencing protecting corrugated metal buildings. Inside however, was a lovely handicrafts market with friendly, assertive vendors. Yes, they each tried to catch our attention with questions or requests to shop, but we felt much more their eager enthusiasm to have us there as shoppers rather than the claustrophobic, overly aggressive deceptive vibe I've experienced in some local markets around the world. Prices are extremely negotiable and we even had some nice vendors try to 'train' us to bargain down the prices. The crafts themselves were lovely, mostly handmade carvings that were incredibly cheap relative to their quality. We bought things we didn't need because everyone was so nice and we were such a necessary presence. There weren't many other tourists and it was heartbreaking to see stall after stall of hundreds of handmade goods without many buyers. 
Back outside the market in front of Elephant Walk there was a talented drumming group performing. Hailey and I danced a bit and gave them a tip. As they were packing up to leave, one of the musicians approached us to say how much he appreciated seeing that his music made us happy. I really love the Zimbabwe people so far. They are desperately poor, but so many have incredible resilience and joyful spirits. 
This afternoon we headed to an Elephant Encounter. We drove to Victoria Falls National Park, a game park located about 15 minutes outside of town. They started by rescuing elephants from some of the culling in overcrowded game parks in the 80s and have continued to rescue orphaned elephants ever since. As part of their education/ conservation efforts, they host small groups for an Elephant Encounter.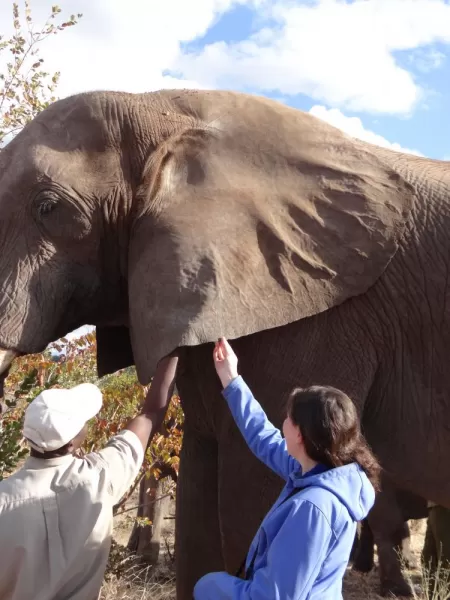 We took a game vehicle into the bush and then walked to the area where the elephant herd was currently grazing. We had the chance to meet 6 elephants, including Jambo, one of the original rescues. We could hug Jambo and get photos with him. Baby Tandi adores Jambo and the untrained 3 year old kept pushing around us to snuggle up to him.... apparently a rare relationship in an elephant herd where the babies typically don't interact with adult males much.
From here we walked with the elephants in front and behind us.
Tandi kept running in and out of line in the playful way a human toddler would be in a queue with her parents. We ended up in a feeding area where we were able to handfeed the elephants treats.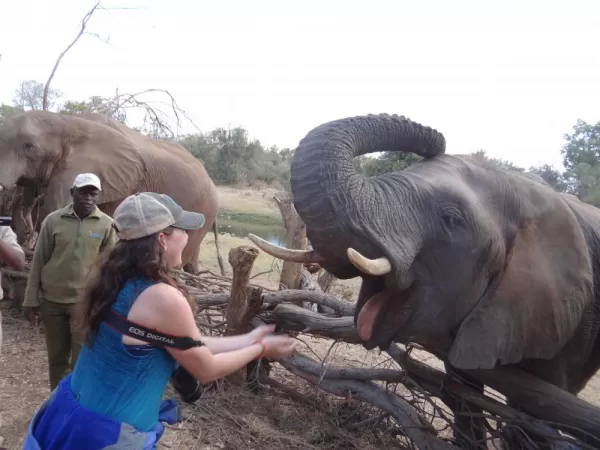 The eventual goal is to rehabilitate and release as many elephants as they can out of the program where they are no longer dependent on people. In the meantime, it's a great opportunity for travelers to meet these gentle giants in a compassionate and conservation minded way.