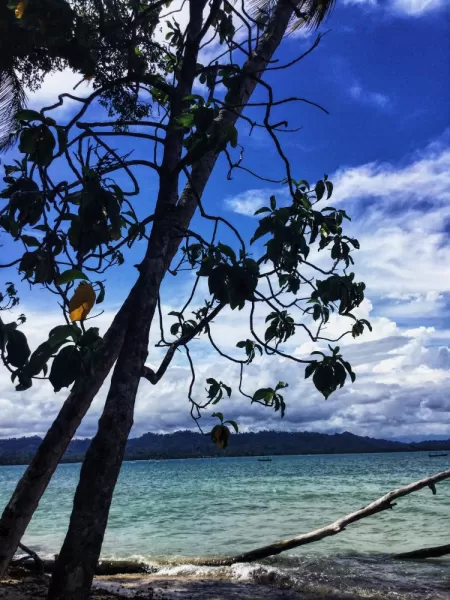 I absolutely love snorkeling. I think it is one of the most magical experiences, getting a glimpse into that underwater life. When we arrived in Puerto Viejo the night before we knew it was going to be an early morning the next day (luckily the Howler Monkeys had no problem providing us with a wake up call around 4am!). The outfitter that Adventure Life uses for it's snorkel tour at Cahuita National Park requires an early pick up. Its not without reason though. Cahuita is one of the most popular areas to snorkel on the Caribbean side of Costa Rica so dozens of outfitters make their way to the reef everyday. Our boat aimed (and succeeded) to be first. You've never had a snorkel tour ruined faster than when 5-8 other boats show up. I was extra thankful that we had a good 30 minute lead on everyone else because by the time they all arrived we had already scared off most of the fish!
he water was a bit cloudy during our tour, but the water was fairly calm and shallow enough that we could see all the way to the bottom most of the time. Our guide, Christopher, was a gem. He gave us some quick instructions about the general areas we should stay in, not to touch the coral, etc and then we were off. I was glad he didn't feel the need to babysit us, but it did mean I missed out on seeing the shark - which I was kind of okay with!
We snorkeled in two areas and then took a break at the very edge of the park where we had snacks and got ready for our hike. There was no where to change but I loathe being in wet clothes, so Mom kept watch while I ducked behind a tree. The hike is more of a walk, about 2 miles along the jungle coast. We saw tons of animals - sloths, lizards, BIG spiders and a raccoon. Christopher took his time and told us about the region, the park itself and the flora and fauna. I was overwhelmed by his knowledge. We walked for over an hour and he still had more to say!
The day wasn't long, but it sure was hot and I ended it looking like the vanilla and strawberry portions of neopolitan Ice Cream. Extra sunscreen on my back half would have been a good idea. Arriving back at our hotel we slipped into the pool and opted for dinner at the hotel. The town of Puerto Viejo isn't too far away, but a $20 cab ride seemed a bit much especially knowing we didn't have much energy for exploring.