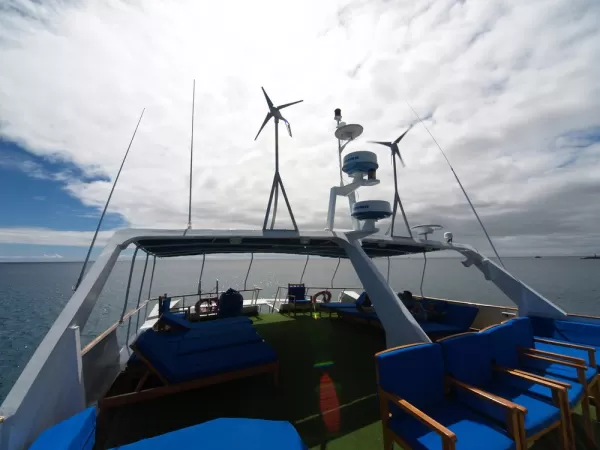 The morning hike on Espanola was one of the most beautiful of the trip due to the rocky cliffs along the coast which created a fantastic vista. This island is the only place in the world where the Waved Albatross reproduces. Some pairs were nesting on eggs while others were tending to their rather homely-looking chicks. Courting pairs displayed an elaborate ritual of beak crossing, rapid beak clicking and cork-like popping, sky pointing and head bobbing. Surprisingly, they don't mate until they meet the following year.
Large waves crashed into the lava rocks below the cliffs. A blow hole periodically shot water spray 30 feet into the air. As humans are prone to doing stupid things, apparently someone fell into the blow hole a few years ago and people are no longer allowed to approach it.
Christmas Iguanas live on this island and are characterized by a reddish color on the tops of the heads and bodies.
After lunch, we had one last opportunity to snorkel off of a long stretch of white sandy beach. The sand originally came from coral reefs which interestingly are no longer found among the islands. The sand has an extremely fine texture and is quite comfortable to walk on. The usual assortment of sea lions lay sprawled along the beach. I was able to spy another large reef shark.