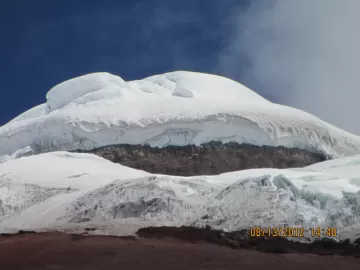 Day 4 of our adventure yet again began early for me as the guys slept. We would meet for breakfast at 9 and say goodbye to the South American coast as we journey on to the cloud forest at Mindo. Of course I was drawn back to the beach one last time to experience costal life. Much to my surprise Samvara's two dogs, our adopted pets were lying on the steps as I opened the cabin door. They wanted to come along with me; a very sweet touch to my final morning at Samvara.
We decided against driving through part of Esmeraldas that morning to save a little time. While I would have enjoyed seeing that area as well, we would have only driven through; unable to enjoy the rich history, culture or marimba music and dance found in that region. Instead we head north east toward the city of Mindo and the Septimo Paraiso Cloud Forest Reserve and excitement in the forest. Excitement there was beginning with our arrival at Septimo Paraiso. While each of the places we had stayed so far; Estacion and Samvara were very charming and provided everything we needed...Septimo was supreme. Spacious rooms, comfortable beds, large and bright shower, beautiful setting and amenities with a friendly staff and deliciosa comida (food.)
As before, we only stay long enough to leave our bags in our rooms and we're off for adventure in the cloud forest. Daniel asked one of the local guides working with Septimo to lead the way toward something fun. It was our first time zip-lining and was an incredible rush. We zipped across 13 lines. I did the first few on my own; sitting up in the harness as I zoomed through the sky. Then with the help of the zip-line crew...was brave enough to try something new and do the butterfly and superman positions. Basically the butterfly has you flying flat as though you're lying on your back and looking up at the sky. And Superman...well that should speak for itself. Andy and Dennis zipped each way too and our smiles were huge. After zip-lining we all tried the Tarzan jump. Jumping off an 82 foot high platform to swing on a vine (cable) wasn't an experience I was familiar with either. It was truly a thrill and as my picture comment reveals...I might even try bungee jumping now!
Back at Septimo my sons and I were able to enjoy the grounds, even get out to the pool for a little bit of natural vitamin D and relaxation. The sun had been out and I wanted to catch a few rays before dinner and see it set behind the forest. Now, I can't remember exactly what we were served that night but I recall the soup was the best I've ever had, the main dish was wonderful and dessert of course...delicious! We ate very well throughout our entire vacation but particularly well each night of our whirlwind tour. After dinner the boys and I went to the recreation room, a cozy enclosure with satellite TV, pool table, foosball, books and games; anything you might want to do while on vacation. When we retired to our room I enjoyed the night air on the balcony hammock, cradled in comfort as nature nearly sang me to sleep...it really was paradise.