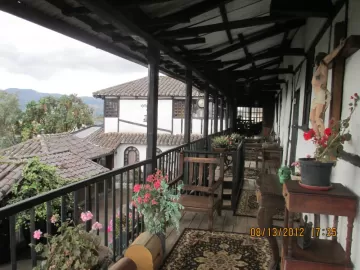 There really was a silver lining to that dark cloud of my injury. An unexpected personal touch for me that otherwise would not have happened. Instead of going out of town to Otavalo or some other day trip, we decided to make our way to Virgen de El Panecillo. Rio de Janeiro has the Cristo Redentor (Christ the Redeemer) looking over the city and Quito has madre de Jesus (Maria) to watch over her. We noticed the statue from a distance as our road trip began. I was certainly intrigued by it, wishing we would have been closer and able to get a better look but soon forgot as our trip unfolded. Only after being faced with coming up with Plan B did the idea come to mind. As it turned out, our friends hadn't explored the Panecillo or that part of the city yet either, so it became our destination, something new for all of us to explore together.
In fact, it was actually a cosmic experience for me because of a story I wrote last year for a creative writing class. In this story I decided that one of the main characters would originate from Quito. I wanted him to come from a very rough part of town. Maria and Aaron had just settled into Quito at the time so I asked for their help. After checking around, Maria told me about the San Rogue sector; which became the birth place of Carlos Alfaraz, my character. Getting to the Panecillo was not that easy. One way streets, steep hills and tight turns left us driving around for quite a while. Finally we were very near, at least on the right side of the ravine when Maria noticed a sign; we were right beside Estacion de policia de San Rogue. Wow...we couldn't believe our luck! Very poetic for me to be in el San Rogue and cosmic that Maria noticed the police station. Given that it was a Sunday morning on a bright and beautiful day; the streets filled with open markets and people...we were not concerned about the area and soon reached our destination. The statue was completed and opened to the public on March 29, 1975 and stands a total of 41 meters high. Inside the base there were 3 or 4 levels to walk around with interesting religious details to read or view. For me, the view from the 360 degree observation balcony was the most interesting part of this experience. It was beautiful; blue sky, lofty white clouds, the warm breeze and vast vista of a city that literally fills the mountain valley...was the perfect ending to our incredible vacation.
We wouldn't be leaving Quito until much later that night. The rest of the afternoon and evening was spent packing, resting, eating, visiting and trying to upgrade my seats on our planes. Trying to make it more comfortable for me to fly. Unfortunately our flight out of Quito on Lan Ecuador was full, not another seat to be had. There was another injured soul, a younger girl who was not able to bend her knee at all. At least I had some ability to sit in the seat. While it was extremely uncomfortable for me, I had my ibuprofen and Lan's wine and whiskey to help me make it through! After another 7 hour layover in Miami and...another nap, we board our plane to Detroit Metro then our limo ride home, with my friend Gerald this time.
The entire experience, sans the knee injury (which by the way has taken several weeks to recover from) ...this entire experience will forever be in my heart and soul. I hope you have enjoyed reading about our trip. Perhaps you're interested in going on a road trip yourself one day. I can't think of a better way to truly experience life in another country. When I am able to travel again to South America; Iquazu Falls being next on my radar (...after Panama I hope!!) I will most certainly contact Adventure Life!