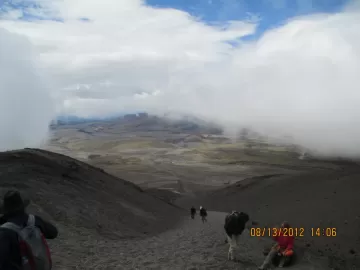 Day 3 of our tour kept us on the coast. While my kids slept in...I longed for a good cup of coffee and was eager to take a morning stroll along the beach. The beach (la playa) was waiting but not the good coffee. Despite coffee being a major crop grown and exported from the area...making and drinking coffee isn't nearly as importante to the locals as it is to most Americans. Lo mas importante es jugo de frutas. (...what is more important is fruit juice.) Never before have I been treated to such an amazing variety of exotic fruit juices; blended slightly thick and always delicious. Without Daniel to help (...he was probably sleeping in as well) I set out to grab something to eat from the kitchen before I head out to explore the beach. Armed with a small command of espanol and my dictionary I soon discover that even words in the spanish/english dictionary don't always translate. I enjoyed every minute of our struggle to communicate and smiled at our success when we finally did!
Walking toward la playa I anticipated being alone to leisurely walk the coast, surf lapping at my bare feet while I collect rocks or shells and of course get lost in deep thought. While I did all of that at various times throughout our stay at Samvara...what I encountered was fascinating. Morning is very active along this stretch of beach. Samvara is a very comfortable place to stay but isn't a 4 star hotel along the coast with miles of other hotels and public beach. Samvara is right in the middle of real life. Families and fishermen live on the beach in a row of houses, shacks really, along both sides of Samvara's beach access. When I walked out toward the water that morning I saw dozens of men, small boats and trucks, on the beach with dozens more men and boats out in the water. Flying above or floating alongside in the water are hundreds if not a thousand birds; black sea gulls, pelicans and vultures all waiting for their breakfast too.
Boats were being rolled on big logs toward the Pacific. Those were heading out for the day, while other boats came ashore having been out all night. Their hulls heavy with a variety of seafood ready to take to market. Open top trucks, both big and small are waiting on the brown sand as fishermen nearly run from boat to truck and back again unloading the nights catch. One after another they push through the surf and sand carrying large crates filled with fish on their shoulders as they run up ladders attached to the trucks and empty their crate. On top of the trucks sit more men or young boys ready to cover and cool the bounty with ice. All the while huge birds fly above constantly diving down to grab with beak or talon their own catch of the day. As I said...fascinating!
I enjoyed being in the middle of all the activity, even asking if I might climb up the ladder to look inside...then jumping out of the way because another fisherman was about to run up behind me. Instead of being bombarded by vendors along the beach trying to sell me things...I am immersed in everyday life; which was exactly what I was looking to accomplish during this road trip. I saw women bring food and juice to their men as they head out to sea, men and boys who had finished work for the morning playing soccer, an old woman watching all from her window, a young father buying toilet paper and candy for his excited little ones from the old man walking along the beach to sell those goods and more from his bag. Real life was all around me, a life different than my own and an experience I will always treasure.
Back at Samvara, while sharing a much better breakfast we decide to head south to Canoa. A place where we might be able to para-sail. Aside from the sunset, that was the only specific idea I had in mind for our time by the coast. It took about an hour to travel to this slightly larger and more touristy town. Not only did I want to para-sail, I hoped to find a map of Ecuador to bring back, chart our travels and frame. Turns out that on a Wednesday in Canoa...there aren't people to take you para-sailing and finding a map is surprisingly difficult. While not exactly what I was looking for...we did find something that will do. Lunch again at an open air restaurante was of course seafood; camaron, langosta y pescado (shrimp, lobster and fish) undoubtedly all brought in fresh that morning! We toured the city a bit and at Daniel's suggestion looked at the work of an interesting artist he had met before. I really appreciated his work and was going to have a custom ring created as my special souvenir. Learning that it wouldn't be ready until after 9pm had me saying no; I didn't want Daniel to have to bring me the hour there and hour back...but dear Daniel said it would be fine with him. All he asked was that we went after the big Ecuador Vs Chili soccer game. However, as we were driving back to Samvara that afternoon; twisting and turning through the narrow roads, being stopped yet again by the cattle and then the police (...they were stopping everyone) a strong feeling washed over me that we should not go back that night. It was not important enough to ignore that inner voice and since I hadn't paid in advance, I felt it was right thing to do. Daniel assured me that the artist would surely sell it to another, besides now we were all free to relax and just enjoy our last evening on the coast. Fortunately the Samvara had a TV in their restaurante/bar; after another great meal we all (other guests and staff) got into the spirit and cheered Ecuador on to a 3 - 0 victory! Unfortunately for me...NO sunset and no stars that night either. El cielo estaba muy nublado otra vez. Oh well...I've seen sunsets before and will see them again. What I did see and experience during our time on the coast was so much more than I expected!