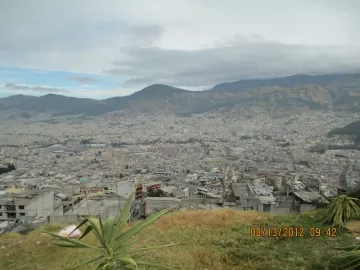 After a very restful night we awoke to enjoy our first full day in South America. Arriving after nightfall left us completely...In The Dark...on what the city and landscape actually looked like. It was exciting to open the curtains and see the mountains and city for the first time. The bountiful breakfast buffet was followed by a morning walk around the JW area where we discover that Sundays in Quito are for biking. Main arteries around the city are closed to cars and trucks; allowing space for individuals and families to safely ride their bikes. While leaving Quito the next morning...we discovered just how crazy the traffic can be. No wonder Sundays are for bike riding.
The afternoon was filled by our friends; Maria, Aaron, Diego y Pablo joining us for lunch and to play in the pool. Later that evening we took a cab to their house for dinner and to drop off excess luggage. Another reason for us staying at the hotel was to treat them, especially the kids to a day at the pool (...and what kid doesn't LOVE a pool?) as a way to say Thank You for the time we'll spend with them when we return from our road trip.
While I took a few pictures that day, I regret not getting more of the hotel and our room; frankly...any of the lovely rooms where we stayed. When I did...they were pictures after we had lived in and messed them up. Oh well...you'll just have to imagine or Google them to see how fabulous or quaint they were.