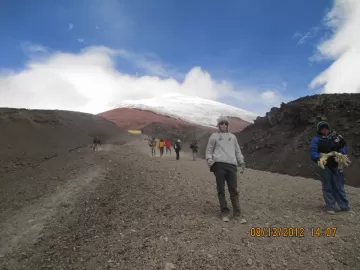 The plan for day 2 of our road trip was to meet for breakfast early; getting a jump start on the day. The drive to our next destination would take about five hours. I was up early enough to watch the sun rise over the mountains and was looking forward to seeing it set into the ocean.
Another fun fact about Ecuador is that there is always 12 hours of day light; 365 days a year the sun rises around 6:30am and sets around 6:30pm. No daylight savings time there. Terrain changes from the highlands to the lowlands is interesting to observe. Seemingly endless brown jagged snowcapped or green covered massive mountains evolve into drier and more tropical vistas. Commerce from the mountain side hectares are replaced by the endless rows of banana or african palm tree farms, cattle ranches or fishing villages along the coast. Several times throughout our travels Daniel would be curving and cruising along the road and have to slow down or stop because of a cattle drive. Donkeys and horses share the roads with trucks and cars, motorcycles and tricycle taxies for every day transportation.
Whenever I'm remotely close to a large body of water...I'm compelled to go near and be present. Because I wasn't able to include the Galapagos Islands in this trip, I let Adventure Life know that getting to the coast of South America was very important to me. Travel to the beach is something that hasn't been part of their tours in the past. Daniel has been to the coast on his own many times...but this was his first time on tour. We arrived at Samvara Eco Lodge early in the afternoon; allowing just enough time to settle in a bit and explore the property before hitting the road again for lunch at one of Daniel's favorite spots in the small, nearby coastal village of Jama. The fresh pescado (fish) was great, the shrimp...muy grande, the cerveza...cold and the price, by USA standards...outrageously low. Did you know that Ecuador uses US currency? It may have cost a bit to get there but once there...our money went a long way.
We made it back to Samvara in plenty of time to enjoy a long, peaceful walk along the beach and for Andy and Dennis to goof around in the ocean. Unfortunately for me...NO visible sunset; the sky was muy nublado(...very cloudy.) Dinner was at 7pm and served outside as we were serenaded by nature. Once again after traveling all morning in a very comfortable SUV, the fresh ocean breeze, good food, a couple cervezas and...it being dark...we retired to our cabins by 8:30 for the evening. We stay at Samvara for another day and night, so there was no need to get up early the next day; something that Andy and Dennis in particular...were very happy about!