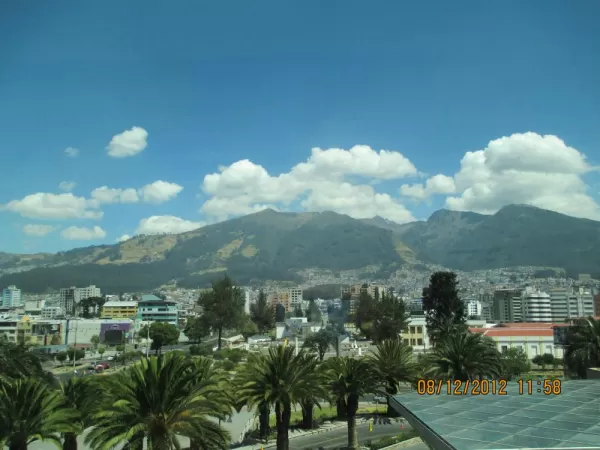 My dream of travel through remote Central or South America was first mentioned in my writing, my personal journal eight years ago. Eight months ago, a long thought idea to travel with a good friend to Europe and celebrate our upcoming milestone 50th birthdays...evolved instead into a family vacation. An exciting and exotic adventure to Ecuador with my two sons, Andy and Dennis. Having friends who live in Quito was a bonus for us and part of my motivation to visit Ecuador. Discovering Adventure Life and working with Erin (with help from Betty in Ecuador), Laura and then Daniel to create and experience this completely personalized tour was priceless.
Travel day found us being driven to the airport in style by my friend and fellow Limo driver Mike, w/Arbor Limousine; leaving home at 4am (...after getting only 3hrs of sleep) in order to make our 6:30am flight from Detroit to Miami. We arrived in Miami around 9am with a 7hr layover ahead of us before we would be in the air again. You'll notice that our photo album begins with Dennis and I napping at the MIA.
Flying Lan Ecuador from Miami to Quito was outstanding! Much to our surprise Lan includes long lost airline perks: hot meals, wine with dinner, after dinner coffee and whiskey, personal choice of movies, blankets and pillows! Four hours of first class treatment passed very quickly. Through a dark sky the millions of sparkling lights of Quito were a welcomed sight. After months of anticipation, my hard work and a very long day...we were finally there!
Because we had to wake up so early and spend the entire day traveling or waiting around...I knew we would be tired and want to have our own space when we arrived. I chose to spend our first 2 nights in Quito at the JW Marriott; an excellent decision. Having planned ahead, the moment we cleared customs and walked through the doors, we were greeted by a Marriott driver and quickly escorted to the hotel. Very shortly after landing we arrived at our luxurious hotel; finally able to put our bags down, spread out and relax...as we all appreciate, especially me...a dream come true!