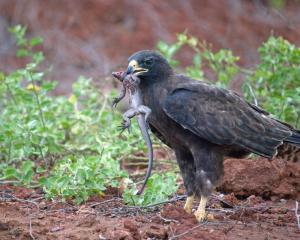 As part of an ongoing commitment (and battle) to eradicate invasive species on the Galapagos Islands, partner organizations including the
Charles Darwin Foundation
(CDF) and Galapagos National Park (GNP) are once again attacking the invasive rat population of the Galapagos Islands. The rats causing all the trouble were first brought inadvertently to the islands in the 17th century as stowaways on ships. Rats have been successfully removed from other islands; and the work continues.
Biologists from
University of Minnesota's Raptor Center
have joined the CDF and GNP in their efforts to rid the islands of rats. Why the Raptor Center? Well, the project is focusing on the removal of invasive rats from ten small islands and islets; four of these islands are home to 22 Galapagos hawks. As a means to their end, the rats will be poisoned. To protect the hawks from potential secondary poisoning (via eating the poisoned rats), the 22 birds will be held in captivity for roughly 6 weeks, during the eradication process.
I should note that the Galapagos does have an
endemic species of rat
called the Galapagos Rice Rat – this small, brown rat with bat-like ears, resides on Santa Fe Island.
The park service has had some great successes with eradication, including invasive pigs, goats and various plant species. Some of you might remember reading my feature about the
return of giant tortoises to Pinta Island
this past summer. Following the removal of invasive goats from Pinta Island, giant tortoises have returned to Pinta Island after a 40-year absence.