Adventure Life is carrying out its mission of providing sustainable tourism through memberships in organizations like the International Galapagos Tour Operators Association (IGTOA). Members of IGTOA are tour operators and organizations seeking to protect the Galapagos marine and terrestrial ecosystems and species.

In addition to paying annual dues as a full IGTOA member, we also make a contribution for each traveler we book on a Galapagos tour. These funds enable IGTOA to campaign for environmental-sustaining travel measures, high professional standards in marine safety and guiding, and conversation of the islands.

In February three Galapagos National Park workers, sponsored by IGTOA via Wild Aid, cleaned up Academy Bay: This is the amount of up-take of damaging undersea garbage they realized: 167 kg of plastics, 651 kg of glass, 1553 kg of rubber, 1320 kg of metal, 9 kg of wood and 5 kg of cloth, for a total of 3705 kg of waste. (For us English system users that is the equivalent of 8168 pounds.)

IGTOA recently sponsored an interpretive volunteer at the Van Straelin Center of the Charles Darwin Research Station. During Rosanna Rivadeneira C.'s stay, she also worked at the Department for Institutional Development. This educational facility provides visitors with information on the problems facing the archipelago and the center's efforts to conserve the islands.

The organization also strives to educate the local guides by sponsoring such projects as supplying the newly formed Guides' Library in Puerto Ayora. In partnership with the Galapagos National Park Guide Group, IGTOA is collecting books to donate to the library.

In its efforts to promote low-impact tourism IGTOA is working with Ecuadorian organizations to revise and improve the Natural Guides' training program. These guides accompany all travelers into the Galapagos National Park. They are currently looking for feedback from tourists. If you have traveled to the Galapagos in recent years and would like to comment on your guide, please email igtoa@comcast.net. Please include in your email your satisfaction with your guide compared to guides in other South American countries, your guide's ability to speak in your native language and answer your questions, and if the guide stressed the importance of adhering to the National Park's rules to protect the environment.

When Mary and Hailey return from the annual meeting, we plan to share with you the organization's goals and projects for this year. For more information on IGTOA and how you can help preserve the Galapagos Islands visit www.igtoa.org.
Want to Go?
continent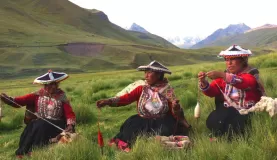 region