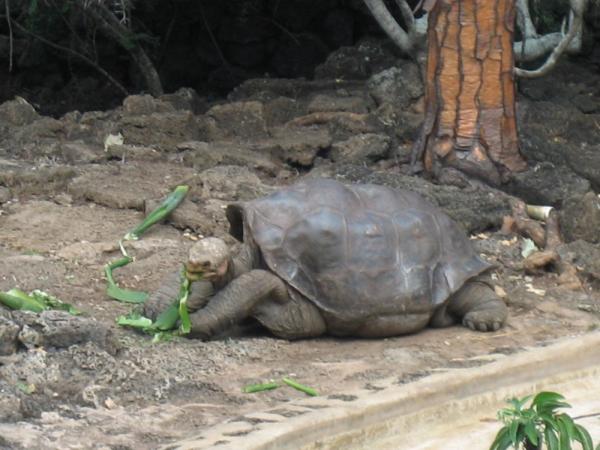 Lonesome George, the famous Pinta Island tortoise of the Galapagos, has died.
George was a beloved icon of the Galapagos Islands and his death comes as a shock to some. Scientists estimated his age at around 100 years which may seem old in human years but is actually middle-aged for giant tortoises who live to be 200 years. George was also the last surviving member of the Pinta Island subspecies (Chelonoidis abingdoni). He received his nickname of "Lonesome George" after years of unsuccessful attempts to breed him by conservations at the
Charles Darwin Research Center
. The cause of his death is unknown at this time and an investigation is underway to determine it.
George was an interest to tourists and researchers alike who have visited the Galapagos over the years after biologist Joseph Vagvolgyi discovered him in 1971. There are now about 20,000 giant tortoises remaining on the islands and a few hybrid species of Pinta Islands breed. It is the hope of the Galapagos scientists and Ecuadorian government that George's legacy will live on in some form. Research is being conducted to find and breed other hybrids of his subspecies among the tortoise population.
It is our hope at Adventure Life that his death will raise awareness of the ever increasing need for conservation in the
Galapagos Islands
. Rest in Peace Lonesome George.