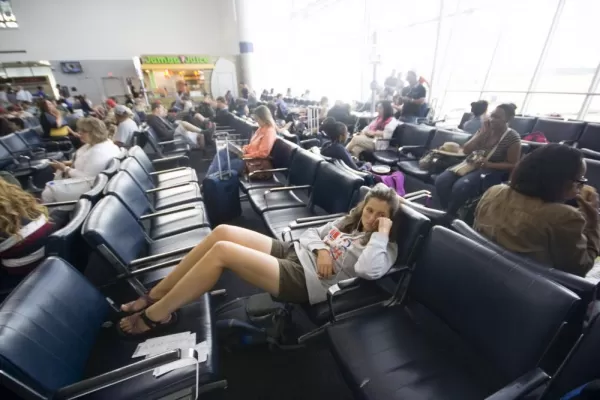 I have yet to meet a world traveller who has never faced the dreaded "D-word:"
delayed
. As an individual who has experienced my fair share of airline delays, I find it only appropriate to pass along some tried and true words of wisdom to help ease the pain of camping out in an airport.
**Pack a sandwich and some instant oatmeal. Airport food is expensive. Dipping into your souvenir funds before you even leave your home country is less than desirable.
**Pack a book. Preferably a physical book. Kindles and Nooks tend to run out of battery, and you can't always count on the appearance of a USB charging station
**Pack a jacket in your carry-on. Even if it's hot when you leave for the airport and your final destination is tropical, having a jacket to cover yourself when you're stranded overnight is a blessing.
**Walk on the conveyor belts. I recently proved that walking on the belts rather than standing on them cut out 15 minutes while walking from one end of the Denver International Airport to the other.
**Don't take a personal bag in addition to your carry-on. The longer you lug around your backpack and oversized tote in the airport, the more you'll thank me.
**Don't rely on booking your flights with Expedia. Use a travel agent. A tour operator. A flight consolidator. If not, you might just find yourself locked out of security in the Sydney airport because your flight doesn't exist.
**If you run into cancellations or delays, be nice to the people who can help you. Smiling at a clerk gets you farther than yelling at them.
**Ask for food vouchers. If your delay isn't weather related, the airport might just pay for your meals. This is especially helpful if your sandwich is already gone.