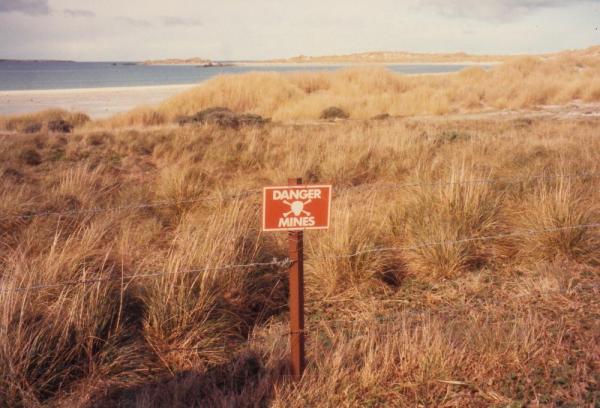 Today we were in for another treat - a sightseeing flight from Carcass Island to Sea Lion Island. This flight of 45 minures is one of the longest of the whole tour. It included one stop along the way to let off and pick up other passengers and a crate of small puppies.
Approaching Sea Lion Island one wonders what there is to attract people to the island because from the air it appears only as a flat, grass covered island with no outstanding features. However it is home to 38 species of birds as well as seals, whales and dolphins which can frequently be seen from the shore. The island is a nature reserve and is rat and cat free and of course has no sheep.
The landing strip is only a few steps from the lodge entrance and the hostess, Jenny soon had us settled in our room, which was labelled as 'The Royal Suite'. Sea Lion Lodge is the only facility on our tour that is a purpose built lodge or small hotel., but it had the same warm hospitality and cosiness of the other farm manager's homes/B&B's.
We decided to spend the afternoon hiking around the southern end of the island, which is in plain sight from the lounge at the lodge. From the lounge can be seen a nearby gentoo penguin rookery and Magellanic penguins. There are many rock hopper penguins on the northern end of the island.
Just down the beach from the lodge there are many elephant seals with a few large males which tend to be a bit aggressive if you approach too closely. I think they are mostly jealous of your possible attentions to the nearby harems of females.
Dinner was tasty and well presented by the Chilean chef and servers.