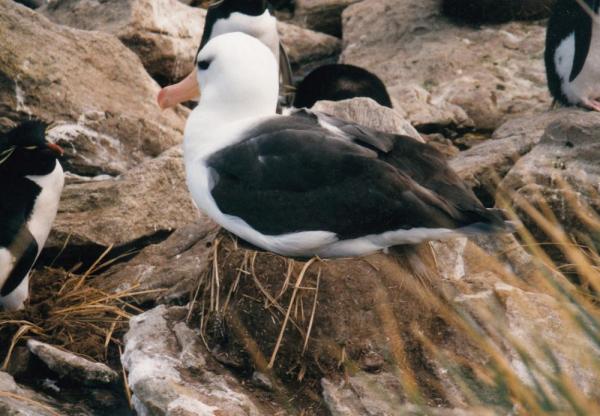 Today we flew from Darwin to Stanley, the capital of the Falklands and the home of most of the 2500 Falkland Islanders. We were met the the Stanley Airport and taken on a tour of Stanley, which included a visit to the impressive museum, which is housed in a former Argentine airline office. The Argentines no longer reure the building. The only Argentines who visit there either come by cruise ship or on a once monthly Lan flight from the southern Argentine city of Rio Gallegos.
Early in the afternoon we were delivered to Lafone House, our lodgings for the next three and final days of our Falkland's tour. Lafone House is run by Arlet, a charming and very warm lady who made us feel completely at home in the first few minutes we were there. By luck, I guess, we were assigned to the master bedroom of the house which has a lovely view across Stanley Harbour. The house, which came to the Falklands in kit form was built by the Falkland Islands Co. as a manger's home and is of modern Scandinavian design.
Also staying there were eight Argentines, who were all photographers. Many of the Argentines who come to the Falklands are veterans of the 1982 war.
Dinner was not included at Lafone House so we went up the hill to a nearby restaurant named Shorty's. They featured Chinese style meals as well as fish and chips. The fish used is mullet; a locally caught fish, not to be confused with the once popular hair style of the same name.
An interesting feature at Shorty's was a play area for small children at one end of the dining room. We were surprised by the large number of young families who brought two and three year olds out to dinner with them which made the play area very useful.