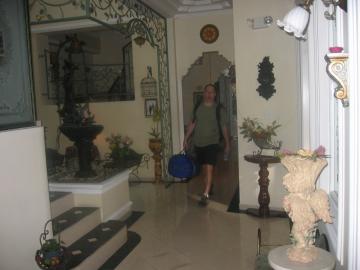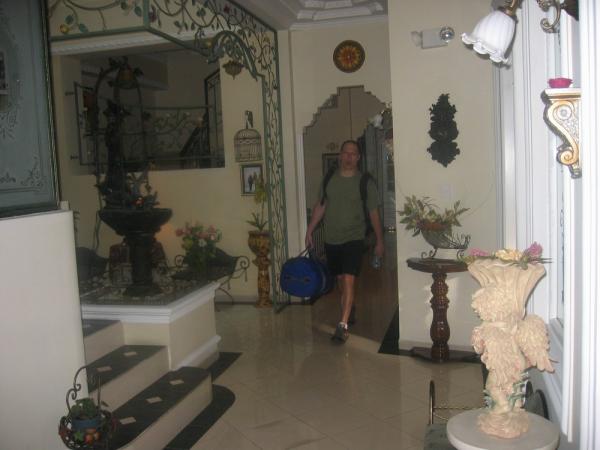 Woke up feeling good. It must be the mountain air! Steve was quite confused, poured yogurt into his bowl of cereal, then got grossed out because he mistook it for curdled milk.
Went on a really cool waterfall hike today. Started up the road, went on a windy trail to another road, then down into a valley. The views from above were splendid. On the way down we saw the biggest leaf ever. It covered Dave's whole body. Once we got to the bottom we hiked up a stream with crystal clear water.
After a short hike upstream, we got to a 15 foot waterfall that was flowing down a mossy click. There was a ladder and rope to allow us to climb to the top and continue. Steve and I were very careful, as everything was wet and slippery. Dave, not so much. He got all "this is easy" cocky, slipped at the top and nearly plummeted into the stream below. He received a lovely battle scar on his elbow for his foolishness.
After the waterfall, we hiked more upstream. The forest got denser here, and we had to duck under trees and such while navigating upstream. At the end of the stream, we reached a large waterfall (40ft?). We proceeded to drench ourselves in the freezing rush of water and wind, then continued our hike uphill back to the road. A monster beetle bid us farewell. This hike was great. We had it all to ourselves!
Later we did the hummingbird watching and dinner thing then continued our drunken antics, this time grabbing a boom box from downstairs for some tunes and playing some rousing games of Scrabble. The treehouse is rather open, so there were bugs everywhere. As you can see, our Scrabble board was covered with them, and our wine had the added treat of gnats and moth wing powder. Yummy! Ended the night by chilling out on rocking chairs on the porch.