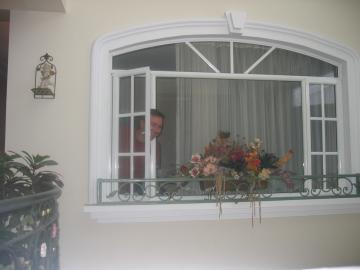 Today we left Quito and took a bus up into the mountains to bike the Pichincha Volcano. The ride up windy mountain roads offered a grand view of Quito far below, and offered a glimpse of life in the small villages surrounding it.
We acquired our bikes in a small town at the top of the volcano, and it was all downhill from there. And I mean downhill in a good way... nice, lazy cruising down the mountain! The weather was perfect and the views of the surrounding mountains and valleys were fantastic. It was amazing seeing the windy mountain road far far below that we would soon be coasting down. Biked by a rustic little house and a fish hatchery. The ride was perfect, except when I ran into a cow. Just kidding.
When we arrived at the bottom of the volcano, we could have biked up the mountain to the Bellavista Cloudforest Reserve, but hey... why work too hard on vacation? So we took the bus.
The cloud forest was very cool. There were hummingbirds EVERYWHERE! There was also an abundance of exotic flowers. The lodging was great too. We stayed in "The Dome", which felt to me like a giant tree house. It was a cool building with a bamboo spiral staircase leading up to our rooms, and a ladder leading up to two more open rooms with 360 views. We each had our own room with doors that opened onto a small balcony, offering great views of the surrounding rainforest. They also managed to fit a small bathroom with shower into these cozy rooms.
After kicking back a little, we trekked into the forest below the treehouse into the rainy, foggy forest. The trail was somewhat overgrown and we got almost got lost a couple times, but it made it more of an adventure. On our way back up the mountain we saw a small waterfall we believe to be Discovery Falls.
After our hike, we chilled out watching hummingbirds for a bit, then had dinner in the tree house dining room. I can't recall what we ate, probably because we drank way too much wine. It was off season so we pretty much had the place to ourselves. Everything after dinner was on the honor system. So we would just grab a bottle, mark it on our bill, and drink away. Not having to pay right away made it very easy to get hammered. We sampled one beer that appeared to be and tasted like it was a decade old, and practically emptied out the snack bar.
We ended the night by going on a little night walk up some trail by the main lodge but didn't venture too far in the dark, especially considering our level of intoxication. :p A visit from a giant stick bug later and we were sound asleep.