Regardless of the specific ship or island, all Galapagos itineraries will follow a very similar format. In order to preserve the Galapagos and protect the wildlife, the Galapagos National Park Directorate helps to orchestrate tourism of the islands. All travelers are allowed one land and one water activity per day, but often you'll experience more! Regardless of which islands you visit, you're sure to see something amazing and get some wonderful photos.
An example cruise day would look like the following: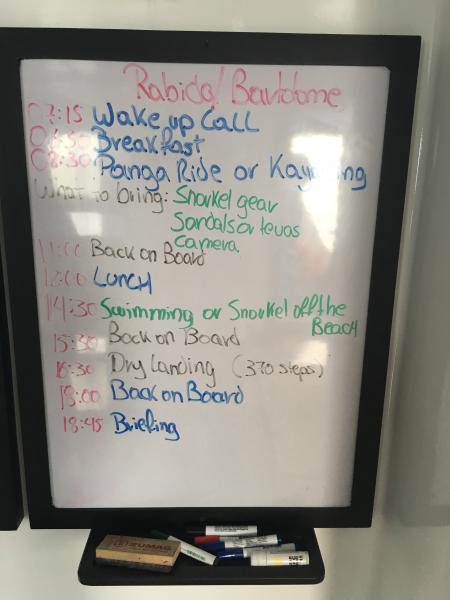 Typically, in the Galapagos, your day begins by 7-8:00 AM with a warm buffet breakfast.  Within another hour you'll be off and running on the first activity of the day, whether it be by land or by sea. Your guide will instruct you of any necessary items to bring to ensure you're comfortable and prepared. Often these items will include the correct footwear, water bottle, camera, sunscreen, and bug spray if necessary.  
The land activities involve 90-120 minutes of leisurely walking through trails and among islands spotting wildlife and learning about the various islands. When possible, the naturalist guide will take pauses to teach you about the surroundings.  They'll also be sure to point out the best photo ops! After working an appetite, you'll return to the ship for lunch and to prepare for the afternoon's excursion.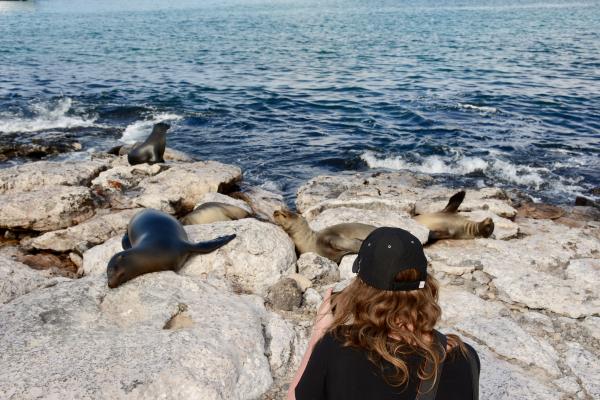 Well-fed and prepared, you'll head to your afternoon excursion and continue the exploration of the islands!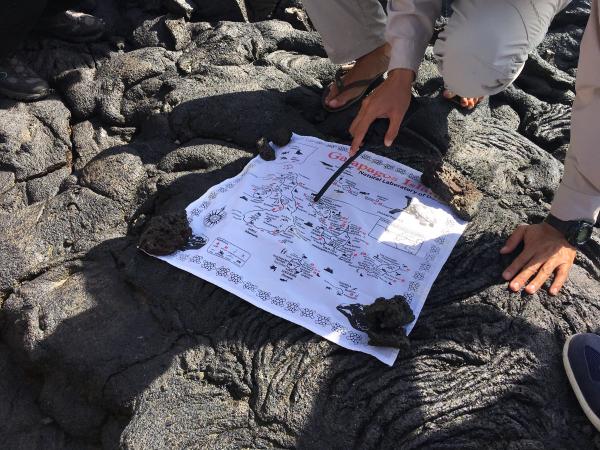 For water excursions, plan to snorkel for approximately an hour spotting various wildlife from tropical to fish, to sea lions, and maybe even a penguin! For those who are a bit uneasy in the water or need a break from the activity, the pangas are ready to pick you up at the wave of a hand. On certain days, kayaking may even be available as a wonderful addition to snorkeling.  
Back on-board again, the afternoon is typically free to spend at your leisure napping, journaling, or spending time on the sun deck attempting to see more wildlife while sailing to the next destination. Personally, I always opted for the latter! Majority of days, a third land or water activity ensued in the late afternoon. Sunset on the islands was a wonderful way to end the daily excursions.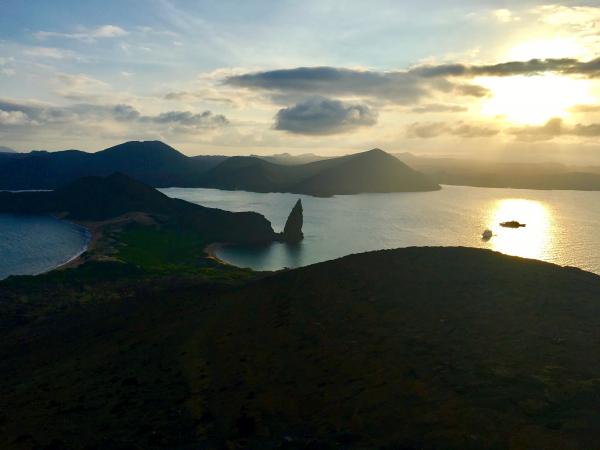 After a delicious dinner and a decadent dessert, every evening consisted of a briefing by our naturalist guide. Each briefing would advise us of the scheduled activities and timings for the following day, the recommended clothing, and a general Q&A session. Evenings were spent leisurely among the other wonderful guests on-board.