Ecuador boasts a number of various geographical regions from the Andes to the Amazon. With this comes a variety of climates and temperatures. The most grueling of these climates, in my opinion, is the Galapagos. The equatorial sun, humidity, and terrain unlike any other can make for a packing conundrum. Experiencing both land and sea each day, you'll need a variety of items in your suitcase.
The Galapagos is a warm climate year-round typically averaging temperatures in the mid-70s. For this reason, I thought it best to bring primarily warm weather clothing with lots of sunscreen. Those who witnessed my silly tan lines and sunburns can attest that I was wrong! I'm the first to admit that the elements were much stronger than I anticipated.
If I were to visit the Galapagos a second time, there would be a few things I'd do differently when it comes to packing.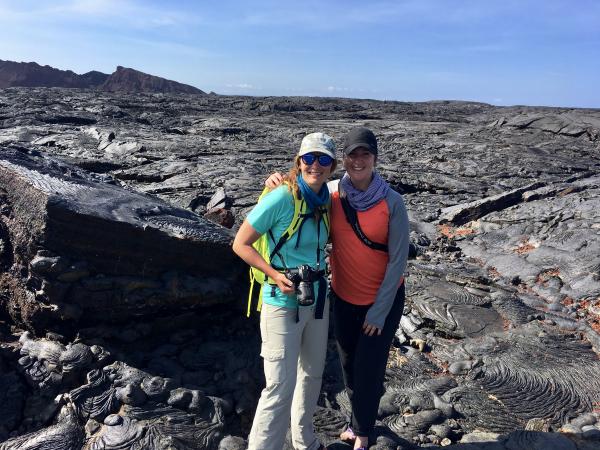 Bring extra Sunscreen – Sunscreen is essential in order to protect your skin from the elements in the Galapagos. With the swimming and sweating you'll encounter, sometimes application 4-5 times a day is necessary.
Buff and Hat – A hat that will protect your face and neck is key. For those who don't have any large brim hats, not to worry! A buff (as pictured) or lightweight scarf will do the trick to cover your neck.
Sandals – The terrain in the Galapagos can be quite uneven, particularly on the newer more volcanic islands. A sturdy pair of sandals with a thick sole will best protect your feet. Sandals that strap around your entire foot are incredibly helpful to ensure your feet don't slip and slide. A second pair that you don't mind getting wet can be helpful!
Underwater camera – My biggest regret was not bringing along an underwater camera. The landscape and wildlife under the water was certainly worth capturing.
Sun Shirts  - With the constant exposure to sun and salt water, covering up with a lightweight sun-shirt was helpful to give my skin a break from the elements. Lightweight long sleeve tops (such as a workout shirt) are great options.  You can see an example in the picture above. I wish I'd brought more than just one!
Bring a minimum of two bathing suits - Your swimming gear is sure to never dry, so having at least two bathing suits or swim shirts is a great way to avoid wearing soggy clothes.
Seasickness medication – One of the biggest concerns with cruises is seasickness. I must admit this this was a huge concern for me as I have never been on a ship this small before. Fortunately, the seas were quite calm! However, I did pack a number of remedies just incase. Sea bands proved effective for me to wear at night when majority of the sailing occurs. This all-natural remedy is inexpensive and easily accessible! My traveling pharmacy also included Bonine and ginger candies. Another popular remedy are seasickness patches, which can be prescribed by your doctor.
These items will help to ensure that you are well prepared for your Galapagos cruise!