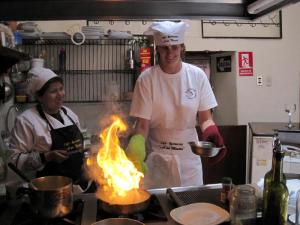 A widely popular South American dish and a Peruvian staple, ceviche is bursting with both flavor and history. This dish has been around for centuries; early recipes stem from the Inca Empire that preserved their fish in salt, fruit juice and chiles. There are hundreds of variations of ceviche recipes to try -- households throughout South America have their own unique take on this traditional dish. But in general the core elements of the recipe remain steadfast: using citrus juice to "cook" fresh fish.
For a little taste of Peru at home, I recommend you give this ceviche recipe a try. It's easy, fresh and a palate-pleaser:
-2 pounds of tilapia (or other white fish of choice)
-1 red onion, cut into thin strips
-1 cup of fresh lime juice (roughly 8 limes). Make sure it's enough to cover the fish
-tsp. salt
-1/2 tsp. black pepper
-2 teaspoons fresh cilantro, chopped
-1
aji amarillo
(Peruvian yellow chile pepper), or substitute habanero pepper. Seeded and minced.
Cook:
-Cut the fish into cubs.
-Put all ingredients in a bowl, except for the red onions. Mix well.
-Place red onions on top of mixture and let marinate in refrigerator for 30 minutes
-Serve
To complete your dish, serve your ceviche with boiled sweet potatoes and corn on the cob. And you can also couple your dish with tiger's milk,
leche de tigre
; the leftover ceviche marinate. Add a splash of vodka to give it a little added kick.
Want more Peru Cuisine?
Learn how to make Peruvian ceviche from a few of the experts on our
Peru Cuisine trip
. In their article "
Market Tours Offer Travelers a Make-It-Yourself Feast
", The Daily Meal highlights this unique sensory-pleasing trip that invites travelers to taste their way across the country, sampling local dishes, visiting traditional markets and taking one-on-one cooking classes from local chefs.
Hungry for more?
Me too.