From Patagonia to Costa Rica, traveler, Shannon Beineke, weighs in on ecolodges and some of the best places to relax your head, take in remarkable surroundings and enjoy examples of effective ecotourism at work.
By Shannon Beineke
Ecotourism has skyrocketed in recent years. As a result, many lodges around the world are now claiming to be eco-friendly, but it can be hard to tell which places are truly considerate of environmental issues. Fortunately, the very best eco-lodges in Latin America leave zero room for doubt.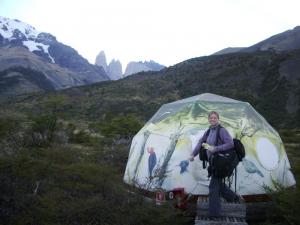 [
EcoCamp in Patagonia
In Patagonia of Chile,
EcoCamp
helps visitors make minimal impact on the environment. The dome-shaped design was inspired by huts of the nomadic Kawesqar people. EcoCamp units are less vulnerable to 100 mph winds. While Kawesqar huts were made from local materials covered in animal skins, EcoCamp domes are made from sturdy materials collected outside of Torres del Paine National Park. Each foundation-free dome is removed seasonally s
o the land can fully recover, and using 17 hours of sun each day, solar panels power toilet fans and indoor lighting. It's no wonder EcoCamp was the first Chilean hospitality company to receive the esteemed
Enviromental Management Systems Certification
: ISO 14001 from the SGS of Switzerland.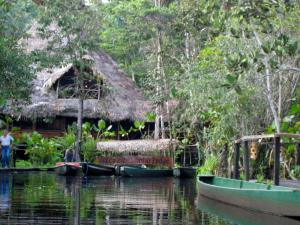 Sacha Lodge in Ecuador
Sacha Lodge
is located on a private 5,000-acre reserve. Approximately 50 miles east of Coca in Ecuador, it's nestled on Pilchicocha lagoon, near the dark and mysterious Napo river. This eco-friendly lodge is almost completely concealed by forestry. In fact, "Sacha" is the Quichua Indian word for "forest." Each thatched-roof hut is made of local materials and screened in to keep insects at bay. A diesel generator powers the electricity. Remember, "lights off" is at 10:00 pm! Also, each unit has its own bathroom, complete with biodegradable soaps and shampoos. Runoff water is treated with ozone to keep the environment intact. With miles of footpaths and canoe routes nearby, Sacha Lodge is the ideal eco-friendly "home base" for Amazon Basin exploration.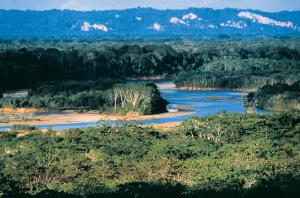 Chalalan Lodge in Bolivia
The San Jos de Uchupiamonas are an indigenous Amazon community in Bolivia. They've lived in the Madidi National Park jungle for centuries. With help from Conservation International, the natives built solar-powered cabins and created
Chalalan Lodge
. Traditional building styles and local Madidi materials were used to keep construction eco-friendly. Now guests can enjoy home-cooked meals, musical shows, dances, and even moon-lit canoe rides. All of the proceeds help over 100 local families sustain life in the Amazonian jungle. Their precious home is among the most ecologically sensitive areas in the world, so it needs to be respected and protected. Be prepared for a trip! Chalalan is a 5-hour boat ride from the nearest town.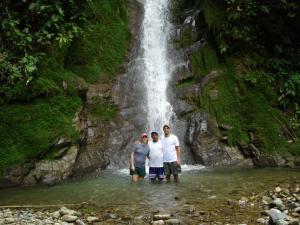 Selva Bananito in Costa Rica
Selva Bananito
is run by Rain Forest Conservation Through Tourism, Inc. It's the only eco-lodge in Costa Rica built with recycled waste wood. During construction, instead of being set in the forest, each cabin was placed in an area that had already been affected by humans. In addition, Selva Bananito doesn't even offer electricity! This makes it ideal for an environmentally low-impact getaway. The lodge is located near Muchilla Mountain in Limon, at the south end of the Cordillera de Talamanca range; home to the gargantuan La Amistad Biosphere Reserve. Over 2 million acres of protected land in this area make the "green belt." It's the least-explored territory in all of Costa Rica, so Selva Bananito guests can discover unspoiled nature without harming it.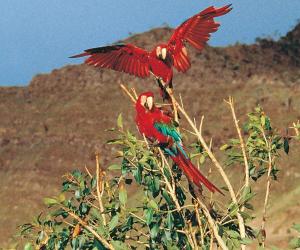 Manu Wildlife Center in Peru
The
Manu Wildlife Center
offers access to 40,000 acres of rainforest, with more than 30 miles of nearby footpaths to explore. Guests can see several species of monkeys and birds close up as they wander through the Amazon. They can also visit the largest tapir lick in the world, 120-foot-tall canopy platforms, or lakes full of hoatzins and giant otters. The Manu Wildlife Center offers a one-of-a-kind experience both outside and indoors. Guests can enjoy screened-in bungalows, electricity, showers with hot running water, and all-cedar walls. The lodge was built with salvaged wood from uprooted trees, gathered after flooding. This makes Manu an eco-friendly lodge, surrounded by one of the most magnificent creations in nature: the Amazon rain forest.