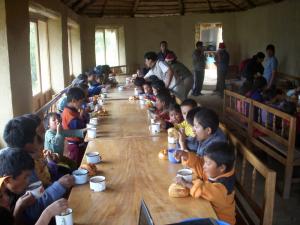 Bloggers and globe-trekkers,
The Lost Girls
talk with Adventure Life president, Brian Morgan, on travel's delicate two-way street between visitors and locals.
"One of traveler's biggest responsibilities is to understand the local community, and one of the best ways to do this is to volunteer next to the people," says Brian. "It's hard to find meaningful experiences that could create a long-term change and also help our travelers understand the local culture." So Adventure Life spent lots of time researching opportunities and interviewing people from the area, and have come up with some great add-ons for their Peruvian adventures. You can spend a day combating deforestation with a native tree-planting trip. Or fight illness by delivering hygiene kits packed with soap and toothbrushes to poor villages. Or help restore homes battered by the harsh Andes' elements by working side-by-side on renovations with local families—and spending the night.

"We also offer a healthy breakfast program for students at the Cachiccata school in the Andes. Our travelers visit a market with a local guide to buy food and learn about what's sold—rather than simply taking pictures. Then they cook and serve breakfast to students who may have walked more than an hour to get to school."

Adventure Life is now working on volunteer extensions in Ecuador and Costa Rica. "We don't want to pretend going on a trip will save the world, but these extensions are a unique way to say thanks to the community for the hospitality, leave a positive impact, and to increase your understanding of the place you're visiting," says Brian.
The Lost Girls
is a group of three curious and intrepid women who decided to leave the daily-grind behind, and travel the world in search of adventure and inspiration. Their blog records their journeys and reflections. You can read more of their interview with Brian, by
clicking here
.