Someone was looking out for me today, because just as we were getting up, giant clouds rolled in- I was going to get a much needed break on my sunburns!! We had a great breakfast and headed to shore. We had traveled to Espanola over night and we made our first landing there amongst lounging sea lions and piles of marine iguanas.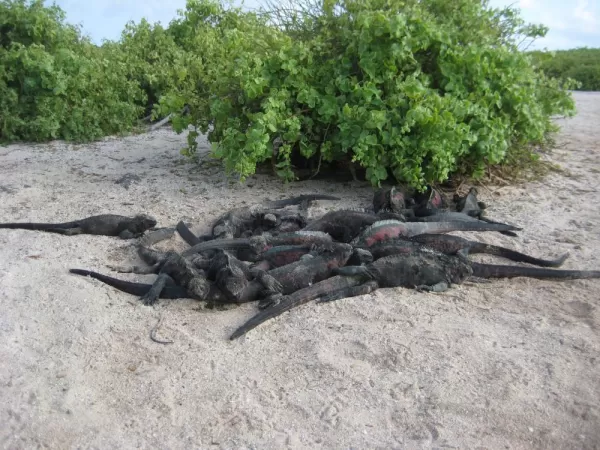 These marine iguanas had some red on their bodies- the only ones like this in the islands!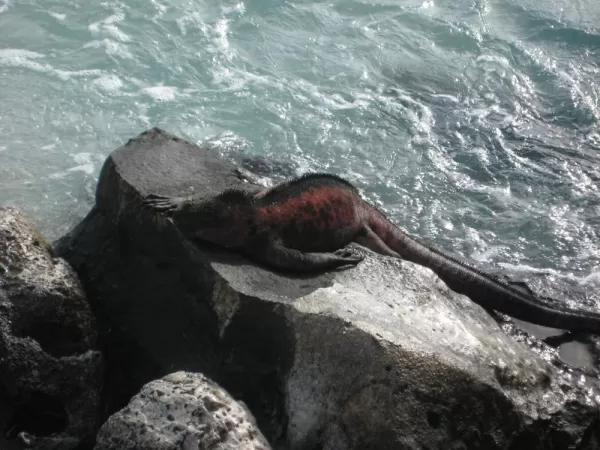 We began our walk in Punta Suarez and first stopped to watch a colony of masked boobies and blue footed boobies. It was mating season and we watched many couples forming. The males were doing a sort of dance where they slowly walk around, picking their feet up extra high as they go. Then, they duck down, put their wings up and whistle. The females respond with a loud call similar to a duck quacking.
The landscape was my favorite yet! Black rock cliffs and beaches with giant waves of teal, aqua and blue crashing over them.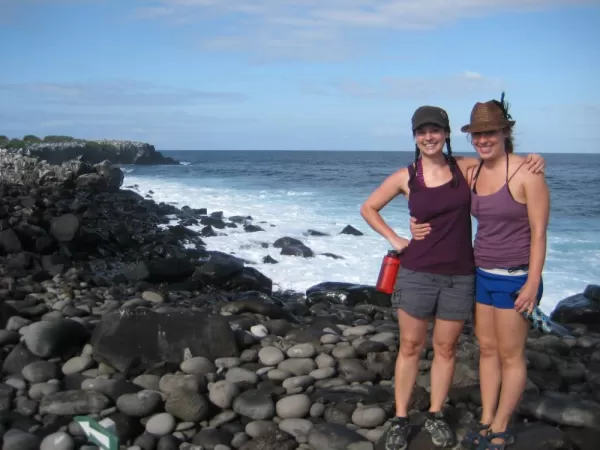 We continued on to the nesting grounds of the waved albatross. These giant birds are typically only found on this island. We saw pairs of them clicking their beaks together in a mating ritual and many others incubating their eggs.
As we came around to the shore on the other side, it was breathtaking! We were on a cliff overlooking the surf below, where there was a giant blow-hole in the rocks. As waves crashed, they forced water up through the blow hole like a great geyser. It was beautiful! As we continued along, the cliffs opposite of us reminded me so much of my visit to the cliffs of Moher in Ireland. What a beautiful island!!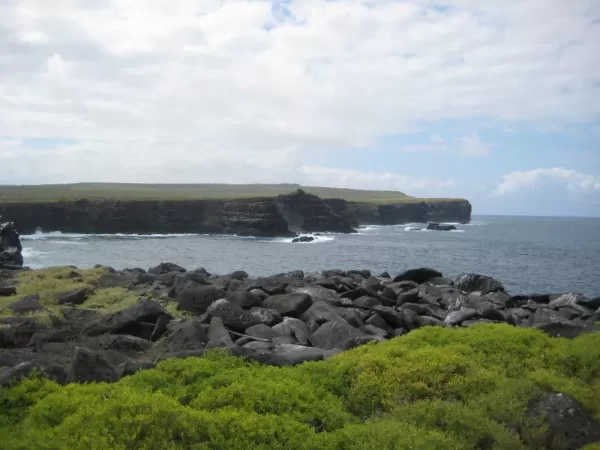 We continued our walk back to the beach, stopping along the way to photograph lizards, iguanas, more albatross,a Galapagos hawk, a tiny snake, mocking birds and lots of boobies. We even got to see a marine iguana swimming! We had to walk in the rocks to avoid the tiny baby sea lion nursing on the pier and then hopped in the pangas and returned to the ship.
On the boat, we had about an hour until lunch, and Amanda and I both climbed into bed and passed out until the lunch bell rang! After lunch, we were still motoring to our next spot for a while, so we went up to the sun deck and ended up falling asleep again! In the afternoon, we went snorkeling again. We were told that today would not be very exciting, we would probably just see fish. As we pulled into the quiet cove along the giant rocks, we looked up to see the cliffs covered in baby sea lions. It was as if they had just been waiting for us to come and play with them. As we pulled in, they all started barking and jumped into the water, swimming quickly over to our pangas.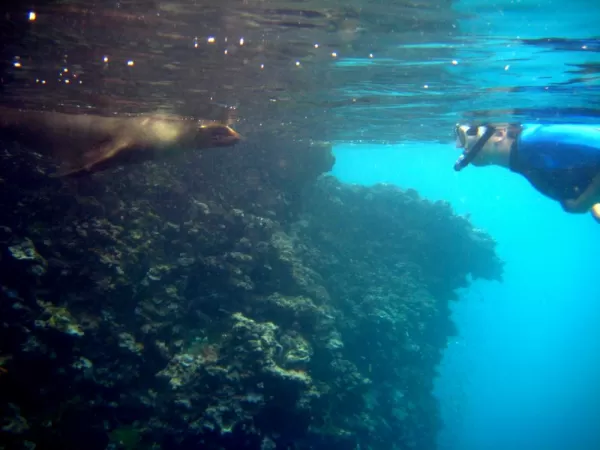 It was Adam (the Aussie)'s first day snorkeling and he was like the sea lion whisperer! They followed him everywhere! The sea lions here were even more playful than the last couple of groups and not even a bit shy. They were constantly coming up and touching us and they even started nibbling on our flippers, just like they do to each other when they are playing!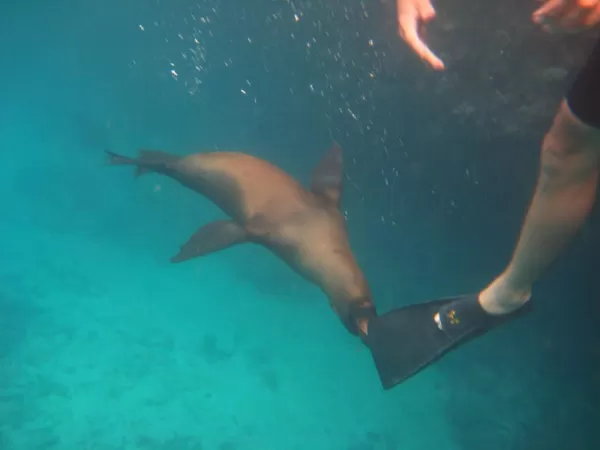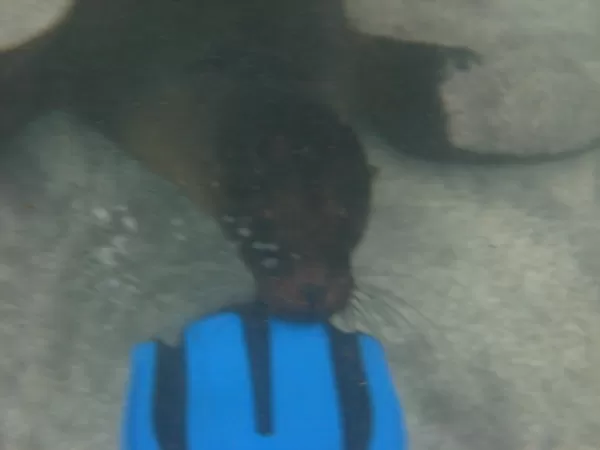 We swam into a cave a bit, but the site of a couple of jellyfish in the water there was enough for me, so I swam back out! The water was chilly today, so we didn't last too long. After about 45 minutes, we headed back to the boat.
About an hour later, we were back in the pangas and headed to the beach of Gardner Bay- one of the most iconic beaches in the islands. It was exactly what I had imagined a beach in the Galapagos would look like: powder-soft white sand, amazing teal water and hundreds of sea lions!!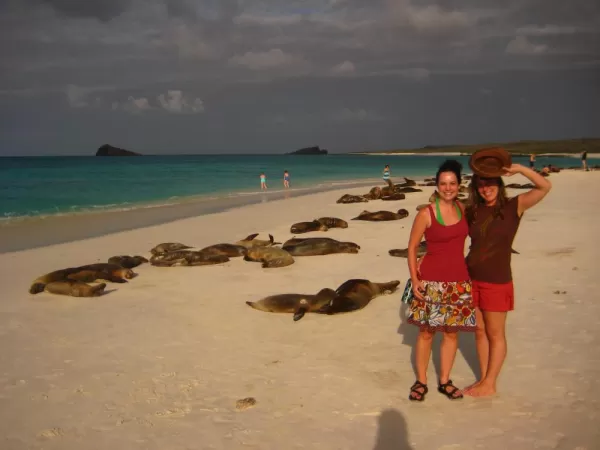 The Spanish couple asked us to take a photo of them and while we were taking it, a baby sea lion came running over to nibble on the girl's pants! They jumped away, dropping their towel and the sea lion immediately grabbed the towel and started playing with it! We all laughed and got some great photos before taking away its new toy.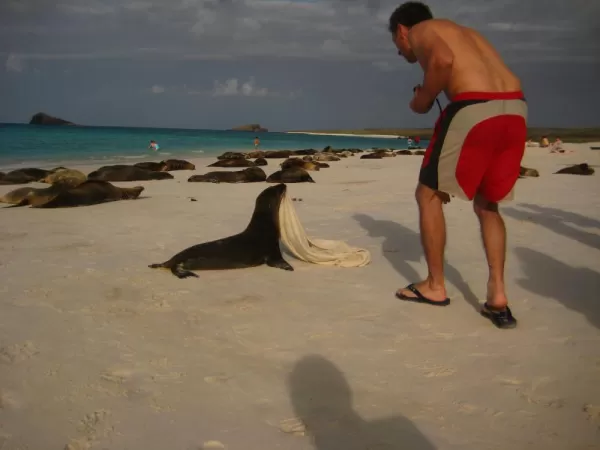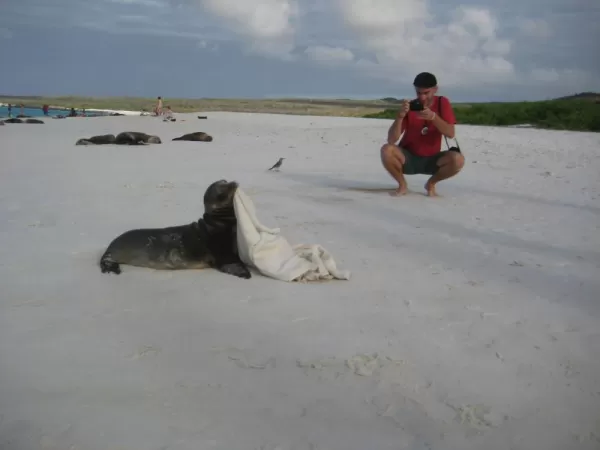 Amanda and I walked the beach a couple of times and Adam joined us as we watched 3 babies wrestle with each other while the dad watched over them. Josie joined us as we walked the beach again. On our way back, a baby sea lion came right up to me! I sat down and let her play. She just checked me out and sniffed a bit, nibbling on my skirt once, and then left me alone. She was SUPER cute!!!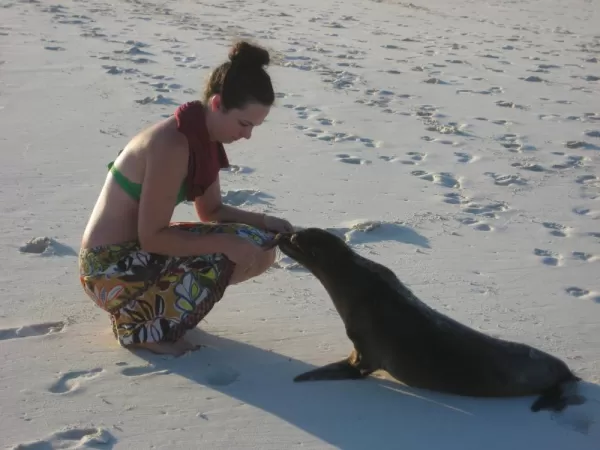 We made our way back to the group and it was time to load into the pangas and return to the ship for the evening. Tasty puff balls filled with cheese were waiting for us when we returned which just made us super excited for dinner. After our group meeting, we had another amazing dinner and then stayed around the tables chatting for quite a while. I didn't even attempt to watch the group movie tonight- I headed straight to bed!