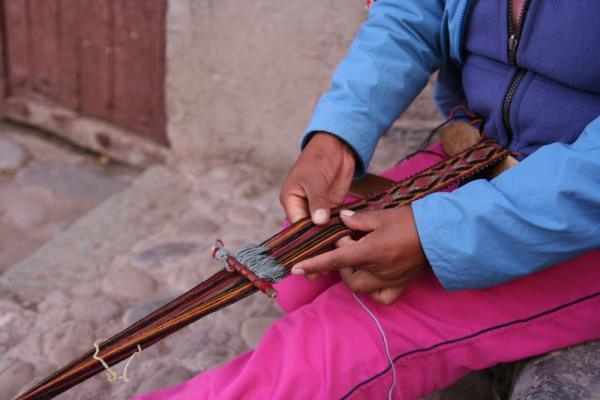 Today we are off to the Sacred Valley. We have been given Adventure Life duffel bags, which we pack with the clothing, sleeping bags, etc., we'll be using for the next few days on the Inca Trail. The rest of our luggage is placed in a locked storage room at the Del Prado Inn. We pile back into the now-familiar van and make our way out of the city toward Pisac. Marco tells us that instead of going to many different sites today, we are going to one site and exploring it more thoroughly. We all approve. The van weaves along the mountain roads for a couple of hours, and we stop briefly at a llama/alpaca farm, where we learn how the wool is dyed and woven.
Our next stop is the Pisac ruins. We hike around a high green mountain, while Marco points out the terraces on the steep hillsides, the bromeliads hanging off of rock outcrops, and various bits of Incan architecture. Sheep graze on some of the terraces, while we look down from above. We stop at one of Marco's favorite places, a narrow ledge of rock that juts out 70 meters above the valley. One at a time, with Marco holding us steady, we stand on the precipice, eyes closed, imagining ourselves to be a condor soaring above the valley.
We stop for a late but sumptuous picnic lunch by a splashing stream. Sunlight reflects off the water while we dig into big helpings of chicken, mashed potatoes, passion fruit, cake, and tea. Marco tells us more about the Sacred Valley, which has rich soil and a climate capable of growing almost anything--1500 varieties of corn. Coffee. Tomatoes. Avocados. Fava beans. Amaranth. Quinoa. Potatoes. We pile back into the van, driving through this lush, verdant valley on our way to Ollantaytambo, which we reach at 4:30. The Hotel Sauce may be my favorite hotel of all those I stay at--small, friendly, comfortable. To someone accustomed to staying in hostels when she travels in foreign countries, three-star hotels are a luxury.
We spend the last hour of daylight climbing up the ruins at the edge of town. At the top are more of the enormous blocks of stone, so huge and heavy that I can't imagine how the Incans wrestled them up the steep hillside. Apparently not all of the stones made it to their destinations; so-called 'lazy stones' are scattered on hillsides in this area, stones that were too large or unwieldy to be hauled to the mountaintops.
Before heading to bed, Marco gives us a briefing of what to expect on our days on the trail, and we go to bed early in preparation for a long day tomorrow.