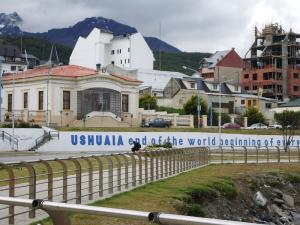 Four hours to go to board the ship! Passengers are gathering in the hotel bar and conversation is lively as we wait the final hours for our Antarctica cruise to begin. By this evening, we'll be cruising down the beagle channel and out to the Drake Passage crossing. Weather report is calling for a mild crossing - which bums me a bit, as I am hoping for at least a few hours of 60 foot waves. Yes, I'm probably in the minority, but if you're going to be on one of the world's strongest ships in one of the world's worst weather areas, then why not get the full experience?
Last night, in preparation for departure, Douglas Allan gave a fantastic presentation about his film making career. He's one of the camera men responsible for SEVERAL of the Planet Earth episodes. We have several incredible people on board and I'm looking forward to all the presentations.
My next entry will be emailed by satellite connection from the Drake Passage. Wish me luck with the weather!