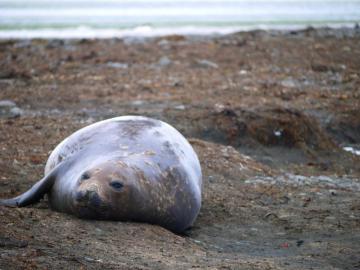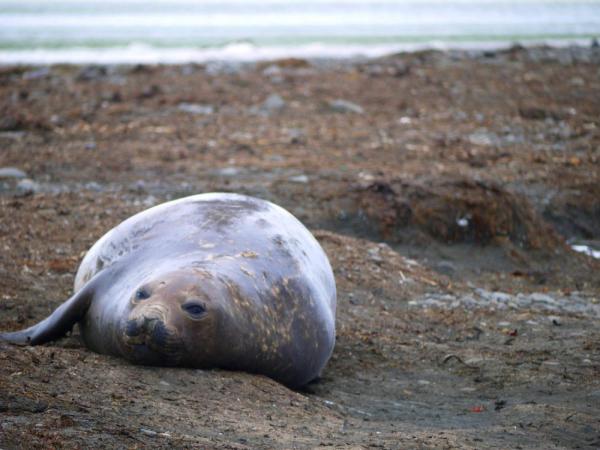 Today was our last morning in Ushuaia. Our arms and legs were not as our own after yesterday's adventure. Nevertheless we got up, made our morning gymnastics and packed our backpacks. After a breakfast we left our luggage for Francisco to watch after and went on one last walk through Ushuaia. We wanted to buy some souvenirs and a lens cover, because I lost mine in the wild forest yesterday.
After shopping we ate lunch. It was not difficult, because the waiters in Ushuaia speak English, and understand, if you point by your finger to another table and say ''the same''.
The seaport in Ushuaia can be seen from downtown because downtown is above the port. It was about two o'clock, when we saw a new blue and white ship at the pier, and recognized our Ocean Nova. It meant that the time to go for our luggage and say goodbye to Francesco had come.
When we came to the pier, the Ocean Nova was the best one of all four ships standing there. We loved our vessel at a glance. At the welcome cocktail the captain said that she is not luxury, but strong and reliable. It's right. There aren't any swimming pools there, but there are cozy salons and large cabins. The library has a good set of books on geography, the Antarctic and Arctic expeditions, wildlife and others. As we could attest later, the restaurant was excellent. And, the main, all international staff here is friendly and very professional.
At about 5pm our ship embarked. All the passengers, about sixty total, were called for a meeting in salon so that we could meet each other. Many countries were represented here. We recognized at least four Indian, one Italian, several Chilean and many Americans. It was surprising for us, but there were 18 Russians. I thought we would be alone here. To add to that, our captain was also Russian! I asked him if Russians are usually on board, and he said he remembered only a team of scuba divers about seven years before and two girls in 2008. So, our cruise was a special one for him also!
The first stop was the Chilean port, Puerto Williams. Our ship moored to a pier at sunset, in a beautiful harbor, surrounded by picturesque mountains. We had a long time to admire it because the boarder and custom procedures were only just finished at midnight.
Here we had our first landing. A bus was standing by to drive us to the Mayor's welcome cocktail party. A local guide told us that Port Williams is a real city with its own Mayor and government, and it is the southern most city of world. It is the real Fin del Mundo, not Ushuaia. He told us that the population of the city is 2,000 people, and apologized for the small bus, because the second bus of the city was busy. He showed us the main points of city like the school, hospital and navy base. The most interesting thing there, in my opinion, is the memorial of a ship, the rescued Shackleton expedition, which belonged to this navy base.
The highlight of the cocktail party was when they passed out waterproof shoes in bright blue bags.